Technical presentation
| | |
| --- | --- |
| Bottling : | March 2015 |
| Acquired alcohol : | 14.5° |
| Residual sugar : | 20.0 g/l |
| Total acidity : | 3.0 g/l H2SO4 |
| pH : | 3.6 |
| Yield : | 31 hl/ha |
| Optimum tasting : | 2017-2033+ |
| Average age of vines : | 30 years |
| Terroir : | Grand Cru Goldert |
| Sweetness index : | 2 |
| Soil : | , , Oolithic calcareous |
Description of the wine Gewurztraminer Grand Cru Goldert 2013
In the past, a wine grower from Gueberschwihr would only be considered if he owned some vineyard in the Goldert, planted in Gewurztraminer – the pride of the village – and some Muscat. The old Roman church tower (build early 12th century) should be visible from the vineyard. Nothing to do with some superstitious stories, but the Goldert is mostly facing east, with a slight south slope on its southern end, where the tower is visible. Obviously these vineyards enjoy a slightly better exposure and less shade from the mountains above. The rich deep calcareous rock allows for late ripeness and intense flavours in the grapes. The Goldert was amongst the richest wine harvested in 2013.
Tasting notes
3/2015: beautiful gold colour, indicating some potential richness. The nose is intense, very open and aromatic developing mesmerizing complex rose and floral aromas with no excessive perfumed character. Eventually the nose moves to more spicy and ripe fruits aromatics. Powerful and intense palate. There is no doubt on the origin of the wine and the Goldert signature is clear here. Velvety palate, some roundness on the finishes, but the overall impression is of an almost dry/crisp and elegant style. As we say in French: an iron hand in a velvet glove.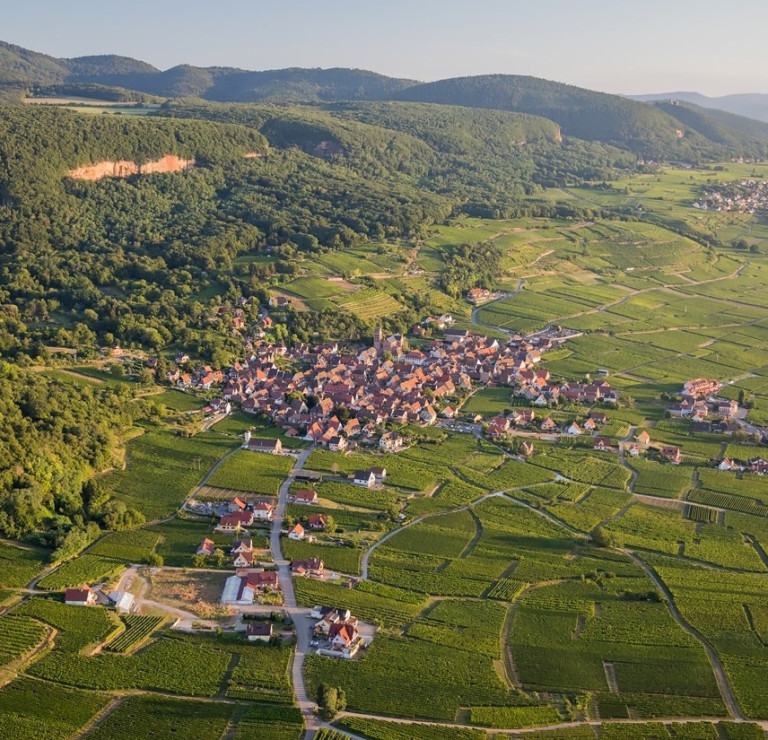 The Goldert of Gueberschwihr is the only locality in Alsace where the geological substratum is composed solely of marine oolithic limestone. Traditionally, the majority of the Goldert is planted to Gewurztraminer and Muscat. These grape varieties are reputed for producing wines with great finesse, structure and a discreet, however complex, bouquet.