Technical presentation
| | |
| --- | --- |
| Bottling : | August 2021 |
| Acquired alcohol : | 14° |
| Residual sugar : | 0.5 g/l |
| Total acidity : | 2.3 g/l H2SO4 / (3.6g/l Tartrique) |
| pH : | 3.7 |
| Yield : | 47hl/ha |
| Optimum tasting : | 2024-2035 |
| Average age of vines : | 73 years |
| Terroir : | Herrenweg de Turckheim |
| Sweetness index : | 1 |
| Soil : | Gravely soil and silt |
Description of the wine Gewurztraminer Roche Roulée 2020
This wine is made from our oldest vineyards planted on the alluvial gravelly valley floor of Turckheim, around the single vineyard Herrenweg de Turckheim. Most of them were planted in the late 40s and 50s with beautiful old cultivars of Gewurztraminer. This grape is probably the one that 'suffered' the most from the clonal evolution later in the 70s: more fertile vines, larger clusters, darker in colour and with more obvious floral aromatics. These vines used to produce very rich and often quite sweet wines. Getting perfect ripe skins is a challenge for this grape, but the climate change actually unable us to harvest them much earlier, healthier and therefore it has become easier to get a drier style, or really dry like this wine! Gewurztraminer is a complicated cultivar. The lower acidity needs to be balanced with a good phenolic ripeness and significant tannins. Getting them ripe is the challenge! Like most wine with higher pH, the fermentation was very fast and the wine finished completely dry and bottled directly from the fermenting lees with no intervention before.
Tasting notes
8/2021: pale yellow colour. The nose displays elegant and discreet aromatics, some floral notes but mostly spicy with green pepper, thyme, nutmeg. It has a medium intensity but is quite persistent. The delicacy of the aromas is such that it isn't an overpowering big style Gewurztraminer and it will even be easier to accommodate it with food. The palate shows good intensity with a seriously dry texture. Again, the spicy character, enhanced by velvety tannins, increases the length sensation and salty mouthfeel on the finish. This wine should go well with most summer dishes, grilled fish, bbq sausages/chicken, light spicy food….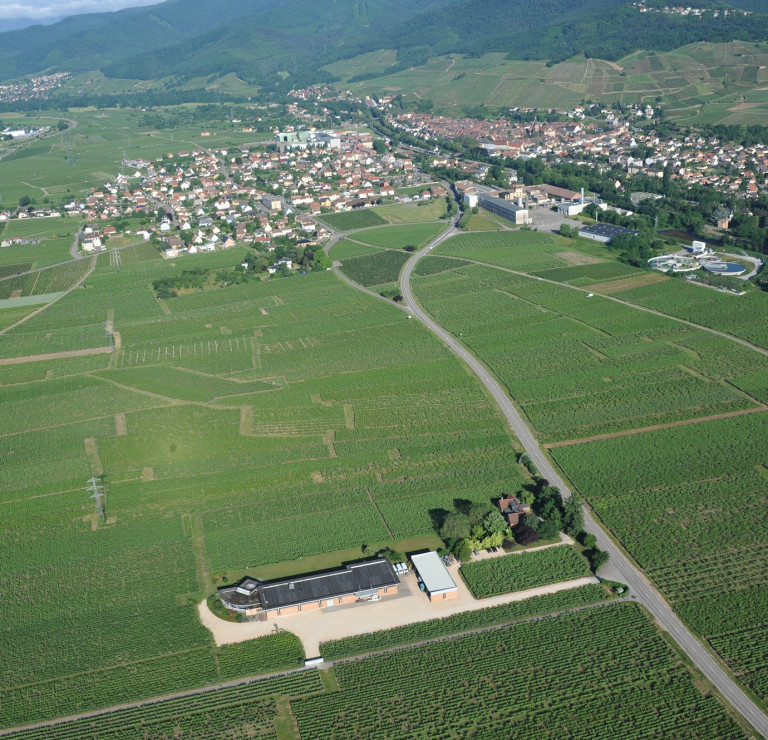 The wines from Herrenweg of Turckheim are always very aromatic, advanced in their development and are always defined by a very ripe acidity and opulent fruit. The wines from Herrenweg are accessible and generous in their youth and although they are often best enjoyed at this stage can surprise 10 or even 20 years later.