Technical presentation
| | |
| --- | --- |
| Bottling : | August 2021 |
| Acquired alcohol : | 12.4° |
| Residual sugar : | 0.6 g/l |
| Total acidity : | 3.8 g/l H2SO4 / (5,8 g/l Tartrique) |
| pH : | 3.3 |
| Yield : | 64 hl/ha |
| Optimum tasting : | 2022-2030 |
| Average age of vines : | 41 years |
| Terroir : | Herrenweg de Turckheim |
| Sweetness index : | 1 |
| Soil : | Quaternary gravels and silts |
Description of the wine Muscat Turckheim 2020
While most Muscat wines in Alsace are produced with the Ottonel cultivar, we have always preferred the Muscat d'Alsace (or Muscat Petit Grains) which exists in both red or white colour of skin (both produce a white wine). The Muscat Petit Grains ripens slowly, prefers slightly richer soils and can preserve à much higher acidity than the Ottonel. Its main default is that it needs to be harvested with perfect skin ripeness, or the wines can have a strong, almost unpleasant, varietal character. This wine originates from vineyards planted with our own massal selections on the richer part of the valley floor of Turckheim. These soils are richer in silt and very fine sands, and poorer in pebbles, and therefore are less prone to stress. Such Muscat wines are very interesting because they can be very expressive with a lighter balance and less alcohol. It is also easier to get them fully dry as the yeasts do not struggle with lots of sugar to ferment. The 2020 fermented very quickly dry in a classic old oak foudre and was bottled directly from its fermenting lees with no previous racking.
Tasting notes
8/2021: bright pale yellow colour. The nose displays elegant fruity and floral aromas with medium intensity. The warm harvest sunshine ripened the grapes to perfection which means more complex flavours and less varietal character. The palate is delicate but persists nicely. Like most wines in 2020, it also has interesting tannins that makes the acidity taste more intensely and saline. This is a well-balanced wine, completely dry (but not aggressive) which is already so enjoyable at this young age.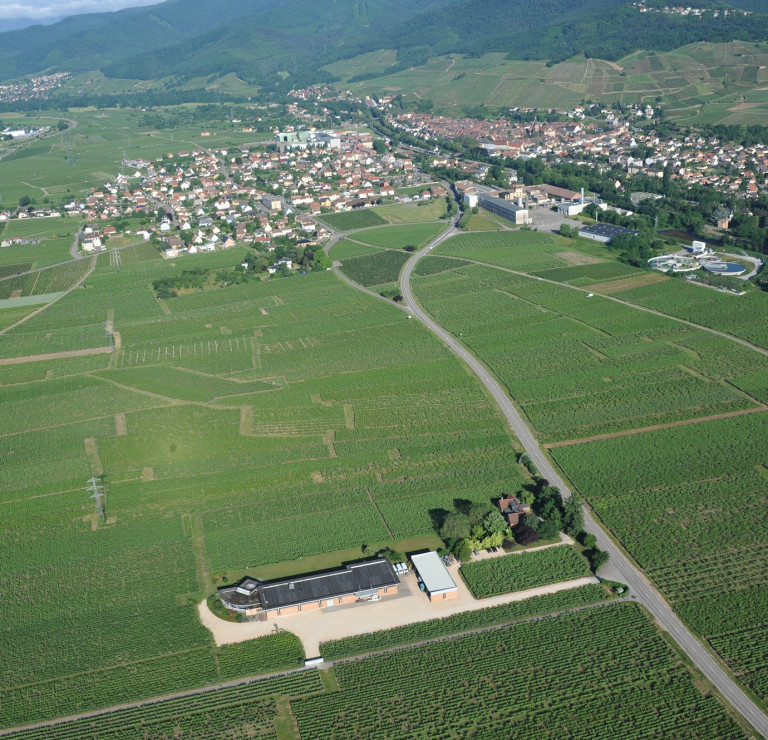 The wines from Herrenweg of Turckheim are always very aromatic, advanced in their development and are always defined by a very ripe acidity and opulent fruit. The wines from Herrenweg are accessible and generous in their youth and although they are often best enjoyed at this stage can surprise 10 or even 20 years later.