Technical presentation
| | |
| --- | --- |
| Bottling : | January 2022 |
| Acquired alcohol : | 13.1° |
| Residual sugar : | 8.5 g/l |
| Total acidity : | 4.6 g/l H2SO4 (7.1 g/l Tartrique) |
| pH : | 3.1 |
| Yield : | 25 hl/ha |
| Optimum tasting : | 2025-2035+ |
| Average age of vines : | 35 years |
| Terroir : | Heimbourg |
| Sweetness index : | 1 |
| Available for sale : | Yes |
| Soil : | Calcaire Oligocène, South/South East facing, Steep slope |
Description of the wine Pinot Gris Heimbourg 2020
The single vineyard Heimbourg is located on a hill detached from the Vosges mountains on the east of the Grand Cru Brand in Turckheim. This small 7ha vineyard was largely abandoned after the Second World War because its steep slopes (more than 50% in places) were very difficult to work and cultivate. The soil is shallow, and the Oligocene limestone mother rock outcrops in places. It is not uncommon for the plough to catch impressive blocks of calcareous-sandstone conglomerate. The exposure of Heimbourg turns from southwest to west, which exposes the grapes to the cooler northerly winds. Heimbourg is not a solar vineyard, which often explains why the wines have an expressive aromatic profile and beautiful acidities. My father Léonard Humbrecht began to acquire the first plots on the Heimbourg in 1978 and very quickly perceived the immense qualitative potential of this hillside. This is why the estate has continued to acquire a large part of this hillside which was put back into cultivation at great expense. Today the domaine has 4ha of vineyard on this hillside.
Tasting notes
1/2022: pale yellow colour. The Pinot-Gris, however often discreet on the nose when it is not harvested late, finds here a very aromatic and forward expression. The nose is nicely expressive with aromas of lime blossom, acacia flower, honey, and even wax. With aeration it opens on a complex fruitiness. The mouthfeel is supple, velvety and also expresses aromas of plant infusion and green tea in addition to the fruity nose. Of medium power, it has a finish that lasts where we find a well-structuring acidity that brings freshness and delicacy, but above all also confirms a notation of dry wine.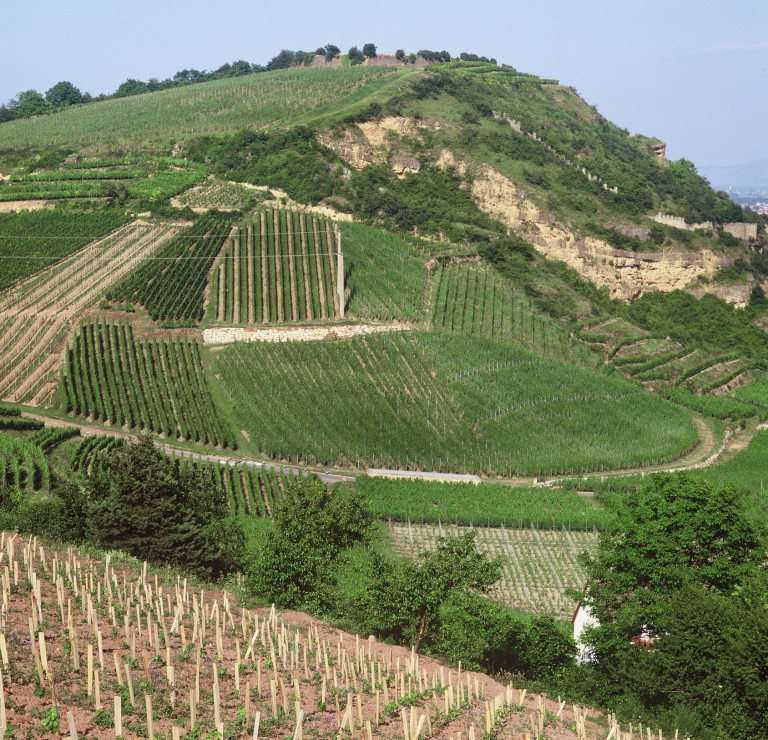 The wines produced on the Heimbourg are rich, opulent, often spicy and can include noble rot. The slower ripening of the grapes often produces wines that are aromatically expressive from a young age, contrary to its neighbour the Clos Jebsal with whom we have to show patience.