Technical presentation
| | |
| --- | --- |
| Bottling : | September 2010 |
| Acquired alcohol : | 12.5° |
| Residual sugar : | 2.0 g/l |
| Total acidity : | 3.8 g/l H2S04 |
| pH : | 3.6 |
| Yield : | 25 hl/ha |
| Optimum tasting : | 2012-2021+ |
| Average age of vines : | 14 years |
| Terroir : | Heimbourg |
| Soil : | Calcaire Oligocène, Exposé ouest, Medium slope |
Description of the wine Pinot Noir Heimbourg 2009
Ultimately, only this vineyard will remain as Pinot Noir on our estate. We are convinced that only great marl limestone vineyards have the capacity to produce interesting, long lasting Pinot Noirs wines. The Heimbourg was an obvious choice for us for this grape, because its location helps to ripen slowly the Pinot Noir while staying healthy (slightly higher altitude, exposed to drying winds) and keeps good acidity in the wine. The vines were planted with a high density (8500 vines/ha) and low vines (15cm) but with a traditional Alsace higher canopy (1.8m). This allows us not to summer prune the vines, increase leaf foliage but also prevent side growth. Vinification is classic: hand harvest in 15kg buckets, partial hand de-stemming, 20 days macerations, 12 months in small barriques (no new ones), bottling from the lees without fining or filtration, so, careful decantation is needed!
Tasting notes
2/2011: dark ruby red colour. The nose is still quite closed but start to show some spicy and mineral aromas on top of the classic fruit. The palate shows great acidity, balancing tannins and giving some freshness to the wine. It will need some time before being enjoyed and aerating it will help. It should also age nicely.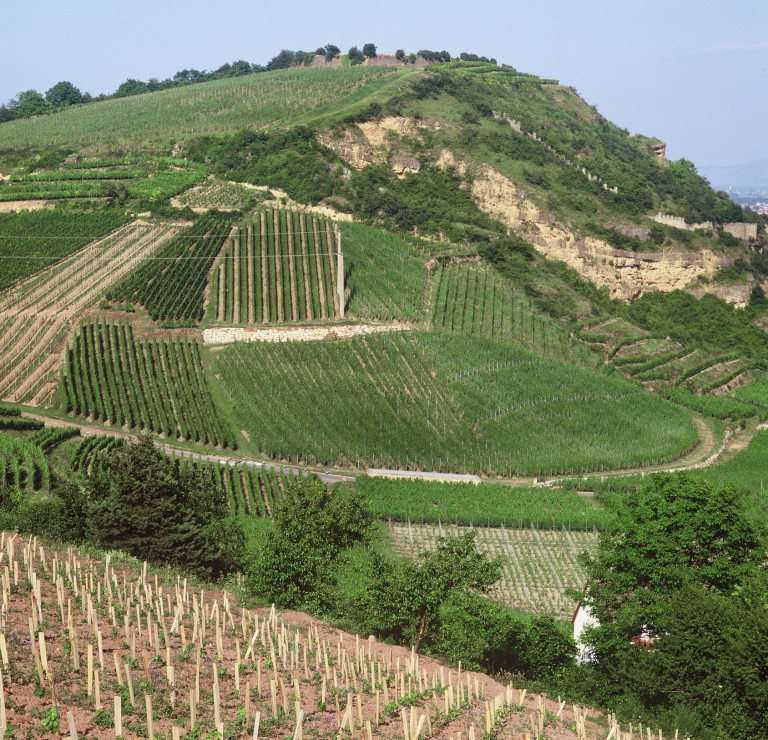 The wines produced on the Heimbourg are rich, opulent, often spicy and can include noble rot. The slower ripening of the grapes often produces wines that are aromatically expressive from a young age, contrary to its neighbour the Clos Jebsal with whom we have to show patience.