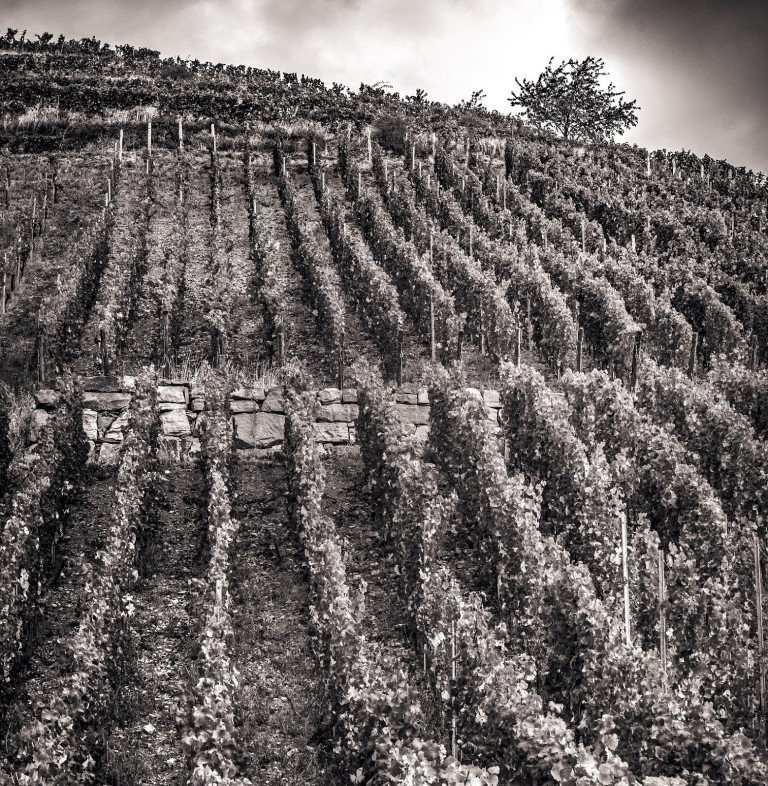 Description of the vintage 
2010 will probably considered as one of the most extreme vintages in recent years, as we went from -26°C before Christmas to an extremely hot July. The 2010 vintage will also be remembered as one of the smallest crops in Alsace for many years, with yields sometimes up to 70% smaller in some areas.
December 19th 2009, the temperatures were so low that even the Christmas trees were frozen! The sad thing is that many vineyards suffered bud loss and in certain cases whole vines were lost in frost sensitive areas (valley floors around Colmar). Winter lasted until April, so bud-break was quite late. Some favourable periods in May helped most vineyards to start flowering early June, but most were in full flower middle June as the temperatures dropped. This cold weather caused some serious grape loss through coulure (flowers aborting), and that was the second climatic effect explaining the small 2010 crop. Millerandage and coulure were exceptionally high, even in grape varieties that are usually more resistant like Riesling. Later flowering vineyards like Rangen and Clos Windsbuhl were proportionally less affected, because the weather turned very hot and dry the last week of June.
July was extremely hot with important rainfalls (storms). August was very wet, almost double the average with around 125mm in Turckheim, and also cold. Curiously, Oïdium was more of a problem than Mildew. From November 2009 to October 2010, we had the following amount of rainfall: Thann: 698mm, Windsbuhl: 612mm, Turckheim: 615mm, which is above the average 525mm. Overall, the vines looked beautiful and the soils were covered by a lot of greenery in August. Despite the higher amount of rain, the grapes remained very healthy because of the colder temperatures and later ripening season.
End of August saw the return of exceptional weather, gradually getting cooler towards October and very dry with many days of the north wind blowing. Rot was not a problem in 2010 as the weather conditions favoured healthy grapes and very late noble rot development. The harvest started the 20th September and finished the 18th October with the Rangen Riesling, actually much earlier than anticipated.
All wines from 2010 are characterized by a very high acidity, low pH and good to very high ripeness. Fermentations were very slow and many wines fermented for over a year, in a very similar way to 2008. Yields are extremely low. The average of the estate is 29hl/ha with many Gewurztraminer vineyards below 20hl/ha. All the grape varieties performed very well and most vineyards eventually developed noble rot towards October. To avoid making too many sweet wines, especially for the Riesling, like in 2007 and 2008, we were able to start harvesting end of September.
Like many previous year, bio-dynamic farming helped us to obtain perfect physiological ripeness before the development of noble rot. As usual, the two last vineyards harvested were the Riesling Rangen and Clos Windsbuhl, which were still very healthy and produced exceptional dry mineral wines. Two SGN's were made in Pinot Gris Clos Jebsal and Clos Windsbuhl, and two Vendanges Tardives in Brand and from the old vines in the Herrenweg.
Without any doubt, 2010 is a great vintage that produced wines capable of long ageing.