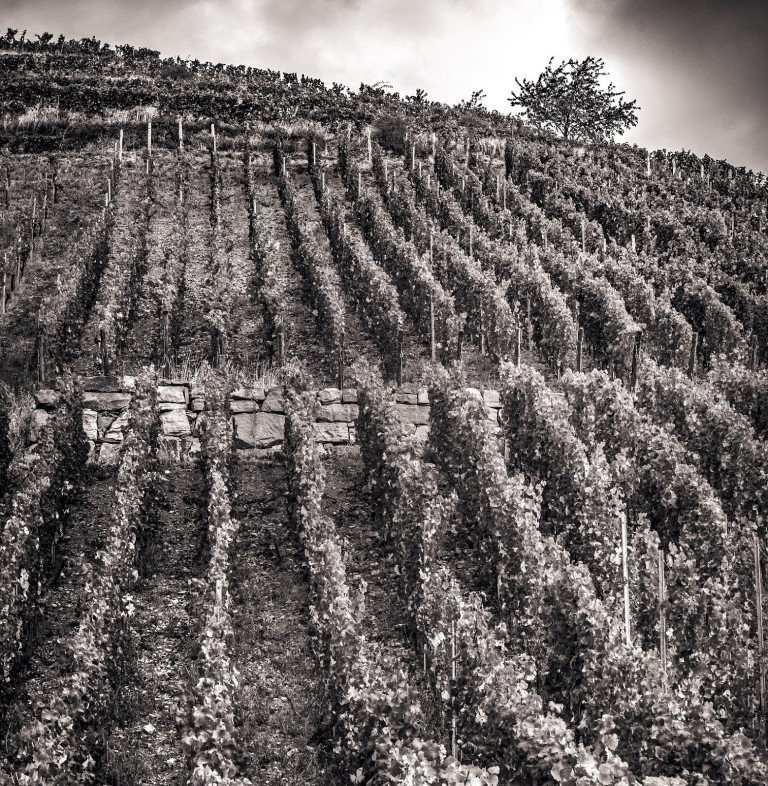 Description of the vintage
2014 ! Another vintage that made us discover new extremes and some good and bad surprises.
 Winter 2013/2014 was mild and very dry. Very cold temperatures were rare and the thermometer went under -5°C for only a mere 10 days and mostly in December 2013. March was again the driest month of the year with almost no rain at all. These conditions made the vines bud-break earlier than usual at the end of March and vegetal growth was fast at the beginning of spring. Later, temperatures were very hot in June and most of July. Flowering started end May, about 2 weeks earlier than average, and finished rapidly around June 10th for all the vineyards, after extreme warm conditions. We were happy to see a fast and homogenous flowering, unfortunately, as temperatures reached 37° Celsius, we could observe some coulure and some flowers aborted following this extreme heat, usually rare that early in Alsace.
 July was a difficult month. Heavy rainfalls, twice the average, associated with warm temperatures, created perfect conditions for the development of fungus diseases, especially downy mildew. Luckily, being equipped with light caterpillars allowed us to enter the vineyards just after the rainfalls and we were able to avoid problems. August was less warm and rainfalls were within normality. September was a very nice month with lots of sunshine hours, less rainfall than usual and agreeable temperatures. 2014 managed to keep its precocity, but the cooler month of August slowed the ripeness process a little which also explains the good acidity of the vintage.
 At the end of August, it was possible to see a huge presence of a fruit fly (drosophila Suzukii) that was probably already present in Alsace, but never really problematic. This drosophila has the ability to pierce the grapes, which is something that its European cousin cannot do. With 8 generations per year carrying each about 850 larva, this little fly developed massively in 2014, thanks to favorable climatic conditions. Grapes were probably their only source of nutrition and refuge at that time, attacks were considerable in some vineyards and there were no solutions available to stop them. Coloured grapes were more affected (red Muscat d'Alsace, Gewurztraminer, Pinot-Noir and Pinot-Gris) as it appears that the wounds made by Suzukii would heal slower, allowing all drosophilas to lay their larvas, and with them bacterial infections (acid rot) and yeasts making sometime the grapes ferment in the vineyard. Riesling and other white skin grapes were much less affected.
 The cooler month of August is responsible for excellent acidities in the wines of 2014. This came as a real unexpected surprise in such a precocious vintage. All grape varieties show acidity levels equivalent or sometimes even higher than 2013 or 2010. Harvest started on the estate on the 10th September and finished 10th October, however, most vineyards were harvested the last two weeks of September. With the evolution of acid rot due to the drosophilas contamination, it was necessary to do severe selections in the vineyards. No affected cluster could go in any bucket without being sorted first. 2014 was our most expensive harvest ever, double the average, with only 39.5hl/ha average (26.5hl/ha in the Grands Crus vineyards and 42.5hl/ha in AOC Alsace).
 Fermentations are faster than usual for all grape varieties except Riesling, but even this grape variety was more active during the cold winter months. All the wines have superb acidity balance and good physiological ripeness, with normal sugar levels. Over-ripeness was hard to achieve in 2014. The evolution of the noble rot wasn't perfect and the climate became also more difficult in October. It is easy to predict a great quality and drier style wines for Rieslings and Pinot-Gris, all showing great soil influences and good ageing potentials. Gewurztraminer will be also in a drier style. This grape having been more affected by the drosophila, it is possible that some vineyards may be declassified due to smaller volumes.