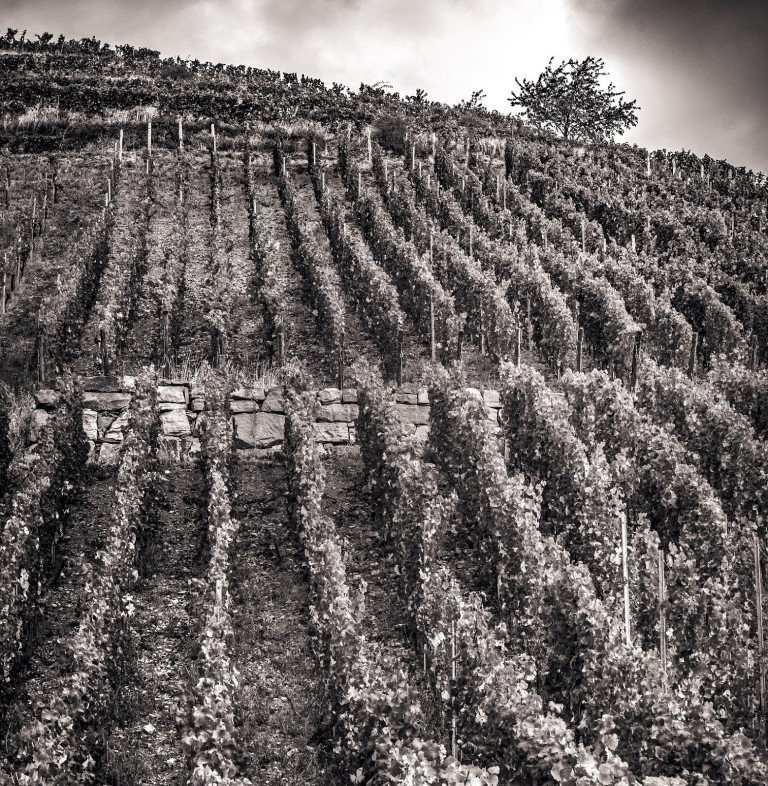 Description of the vintage
Winter 2008/2009 was extremely dry, not really cold, sometimes it felt like springtime, so it wasn't a surprise to us that budbreak was early, around early/mid April. The growth was fast, helped by warm temperatures and decent rainfalls in May. End of May was extremely hot (hottest day ever recorded in May in Alsace: 37.5°C). Mid flowering was around 26th May in our precocious vineyards like Herrenweg in Turckheim. A brusque change of weather early June with temperatures dropping to almost 20°C stopped and delayed the flowering process in the later ripening vineyards. The Rangen in Thann and Clos Windsbuhl in Hunawihr were the last vineyards to finish flowering around 15th June.
Some feared that there would be some grape losses amongst the vineyards that finished flowering late; however, harvest results showed that all vineyards were in fact very homogenous. End of June was nice, quite dry with warm temperatures. July had a normal rainfall and temperatures, so the fruit set was perfect and we were heading for a very precocious vintage, more similar to 2007 than 2003, because the vines were very green and there was no drought in sight at that stage. Of course, humidity and warmth could mean more mildew disease, but it was actually easy to avoid the problems if proper care was given to the vineyards.
August was very dry and at moments very hot. The soils turned from green to yellow during the month as grass and cover crop were drying under the sunshine. It helped the vines to slow down their growth, which is very favourable to obtain a quick change of colour of the grapes (véraison). Any heterogeneity at flowering was now compensated by a quick and homogenous véraison.
For many years now, we have stopped hedging our vines and keep a few branches 'dancing 'on top of the canopy. They help keeping the soil and grapes under the shade and avoid sunburn problems. If in the past we used to plough our soils a few times in spring in order to keep them grass free, we now allow any sort of grass, plants or cover crop to grow freely, as we usually stop ploughing the soils in May. Typically, if the weather isn't too dry, the soils are completely green in July. This grass is then rolled down in order to pinch the branches which become dry above ground, while the roots stay active. This is a great help to fight sunburn on the soil and avoids loosing humidity by over-exposing the earth. All this work paid off in 2009, because no one would have expected the weather to be that warm and dry for over two months with no rain at all.
There could have been serious drought problems in August with bad viticulture. As always, vines cultivated with deeper root systems, smaller yields, more active leaves and un-compacted/protected soils, didn't suffer at all from the drought. However, warmer temperatures did change the acidity balance: the malic acid was almost completely burned out and only tartaric acidity remained in the grapes. If some areas suffered from lack of sugar ripeness (especially Riesling), it was because the vines entered into hydric stress too early. These same vines, over stressed, also burnt too much of their acids. Overall, 2009 shows acidity levels which are lower than 2008/07/06, but of the same level as 2005/04/00, and much higher than 1997 or 2003, and, surprisingly, the pH can be quite low for some wines.
It was critical to be able to harvest not too late so the acidity would not drop too quickly. Proper vineyard practices that allow the vines to mature the grapes physiologically faster (bio-dynamie), allowed us to start harvest quite early and, thanks to fantastic weather conditions during September and October, we were able to spread the harvest over a long period of time, harvesting only at the right moments.
The harvest started slowly on the 9th of September and finished on the 16th of October (very similar to 2007).
The grapes were harvested very healthy and 2009 produced some wonderful dry wines. The botrytis developed nicely early October, especially on Pinot Gris and it was possible to produce some late harvest wines. However, because acidities are not that high, we didn't 'push' our vineyards towards this style of wine and preferred to take the dry wine option. For this reason, we only produced one VT in Clos Jebsal and 3 SGN's (Rangen, Clos Windsbuhl and Clos Jebsal), all in Pinot Gris.
The fermentation started fast for all the grapes harvested in September. Vineyards harvested later (mostly because the flowering was later) fermented slower. It is difficult to say that one grape variety is really better. All performed very well, including the Pinot Noir. 2009 will be a great vintage for both colours in Alsace. At varietal level, the wines will be very dry (<5g/l RS) and most Riesling show little sugars. The 2009 wines are all showing beautiful aromatics and nice structures on the palate, despite some strong lees character or slight youth reductions understandable in a warm and healthy harvest.
2009 is a larger harvest for us, mainly because the varietal wines yielded between 50 and 65hl/ha. The average of the estate is 52hl/ha, with the Grand Crus at 34hl/ha. No wines were chaptalized of course. 2009 should produce many wines with great ageing potential, but also many dryer wines that will show well at an earlier stage.
2009 is a very good vintage, but only the long term will tell us if it will be better than some of the recent great years: 2008/2007/2005/2002/2001… and 2010!