Muscat Grand Cru Goldert 2011
Dry Wine
Technical presentation
| | |
| --- | --- |
| Bottling : | February 2013 |
| Acquired alcohol : | 13° |
| Residual sugar : | 6.5 g/l |
| Total acidity : | 4.9 g/l H2S04 |
| pH : | 3.2 |
| Yield : | 53 hl/ha |
| Optimum tasting : | 2015-2025 |
| Average age of vines : | 24 years |
| Terroir : | Grand Cru Goldert |
| Sweetness index : | 1 |
| Soil : | 90% Muscat d'Alsace & 10% Ottonel, East facing, Oolithic calcareous |
Description of the wine Muscat Grand Cru Goldert 2011
The choice we made to move towards the Muscat d'Alsace grape (small berry Muscat), and drop gradually the Ottonel, made sense in a vintage like 2011. Being later ripening and capable to keep a more interesting acidity, the small berry variety is more adapted to a warm and precocious vintage like 2011. The Goldert vineyard was harvested perfectly healthy and at an ideal ripeness. It doesn't take much for this wine to keep some sweetness, but in 2011, the fermentation went slowly to the end leaving little sugars.
Tasting notes
2/2013: the nose is vibrant and intense, but shows the vineyard character strongly. There are of course some exotic fruits and floral aromas to be found, but the limestone soil takes over quickly and brings minerality. The palate is vibrant, racy, and zesty with a fantastic saline and crisp finish. If it wasn't for the telltale aromatics, most would think of a Riesling.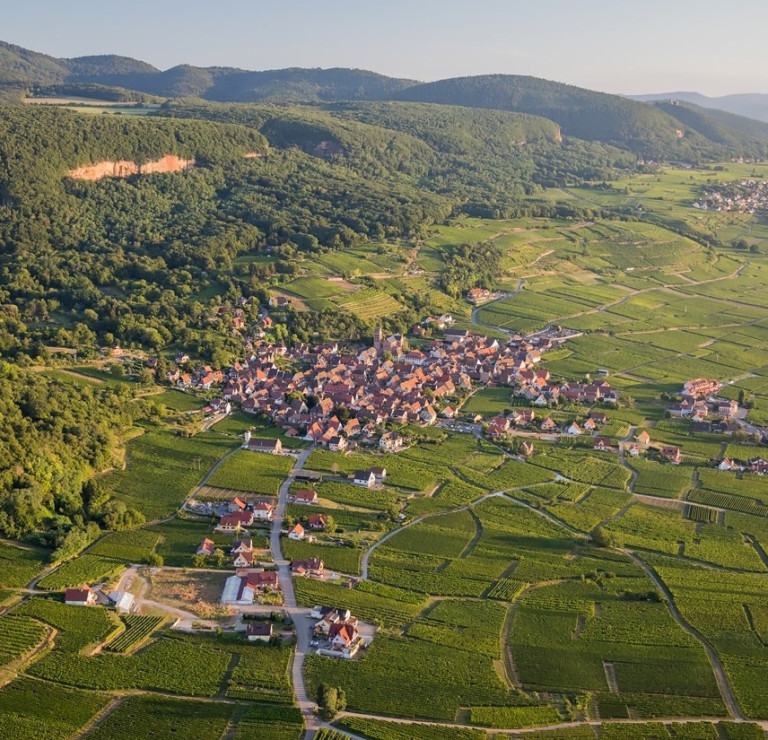 The Goldert of Gueberschwihr is the only locality in Alsace where the geological substratum is composed solely of marine oolithic limestone. Traditionally, the majority of the Goldert is planted to Gewurztraminer and Muscat. These grape varieties are reputed for producing wines with great finesse, structure and a discreet, however complex, bouquet.