Riesling Heimbourg 2012
Medium Dry Wine
Technical presentation
| | |
| --- | --- |
| Bottling : | February 2014 |
| Acquired alcohol : | 14° |
| Residual sugar : | 15.0 g/l |
| Total acidity : | 3.9 g/l H2S04 |
| pH : | 3.2 |
| Yield : | 46 hl/ha |
| Optimum tasting : | 2015-2032+ |
| Average age of vines : | 18 years |
| Terroir : | Heimbourg |
| Sweetness index : | 2 |
| Soil : | Calcaire Oligocène, South/South East facing, Very steep slope |
Description of the wine Riesling Heimbourg 2012
Only the Riesling grapes are planted on the small south, south-west part of the Heimbourg, where the slope is the steepest and the soil shallow. This part of the vineyard enjoys a slightly warmer and more precocious climate, hence the choice for Riesling. The consequence is also that some vintages, like 2012, the grapes can be harvested slightly richer, even with some noble rot. The marl/limestone soil is effectively capable to bring the necessary humidity for the botrytis to develop. Due to the high sugar ripeness, it is to be expected that the fermentation stopped with some residual sweetness.
Tasting notes
2/2014: deep yellow colour. The nose is intense and almost like a complex perfume, keeps developing more and more as the wine breathes. It shows obvious ripeness with fruity aromas (peach, citrus) and could be mistaken for a richer late harvest style on the nose. The light sweetness doesn't come as a surprise, as it is enhanced by the aromatic intensity, but the acidity firming up the finish, leaving a drier mouth feel, is a real surprise. This Riesling shows an unusual ripeness in 2012.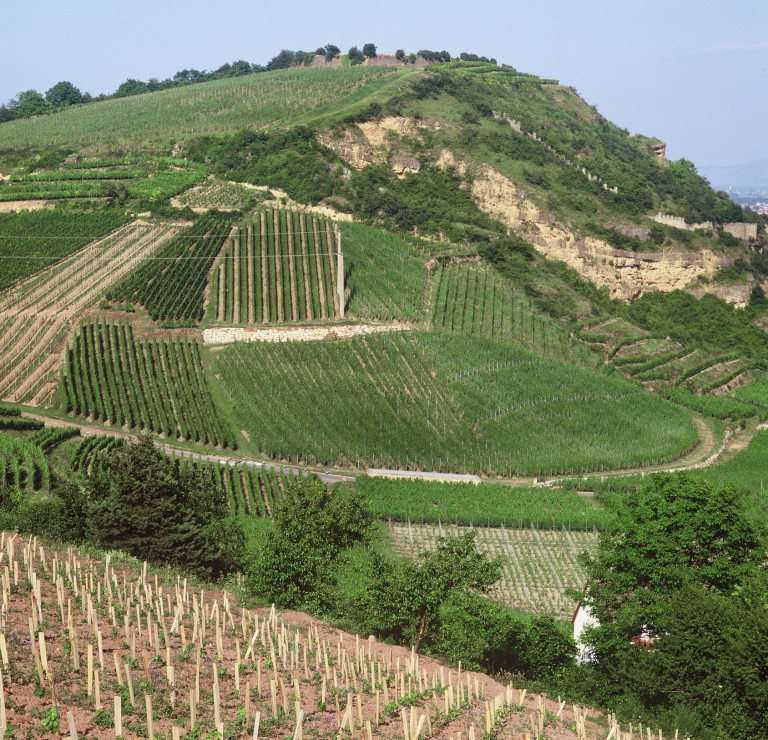 The wines produced on the Heimbourg are rich, opulent, often spicy and can include noble rot. The slower ripening of the grapes often produces wines that are aromatically expressive from a young age, contrary to its neighbour the Clos Jebsal with whom we have to show patience.