Muscat Goldert Grand Cru 2013
Dry Wine
Technical presentation
| | |
| --- | --- |
| Bottling : | March 2015 |
| Acquired alcohol : | 12.5° |
| Residual sugar : | 6.0 g/l |
| Total acidity : | 4.1 g/l H2SO4 |
| pH : | 3.2 |
| Yield : | 35 hl/ha |
| Optimum tasting : | 2018-2028+ |
| Average age of vines : | 26 years |
| Terroir : | Grand Cru Goldert |
| Sweetness index : | 1 |
| Soil : | 10 % Ottonel, 90 % Muscat d'Alsace, East facing, Oolithic calcareous |
Description of the wine Muscat Goldert Grand Cru 2013
The Goldert Grand Cru is located north of the village of Gueberschwihr, on a late ripening deep limestone hillside. It is east facing on a gentle slope. These conditions have caused a slower ripening process and helped to keep an excellent acidity balance and healthier grapes at the beginning of the harvest. The Goldert is also a vineyard capable of resisting better to hydric stress, which explains why the grapes had no problem in ripening quickly during the warm June/July months. As usual, it fermented very slowly but the yeasts didn't leave much sweetness in the wine.
Tasting notes
3/2015: classic mineral and more austere nose at this early stage. With some moderate aeration, the nose develops wonderful complex fruity Muscat aromas. The palate is dry and strict yet elegant, showing the classic Goldert acidity. Good structure with the limestone character developing on the finish. As many previous editions, this Goldert will need time but is already surprisingly flattering.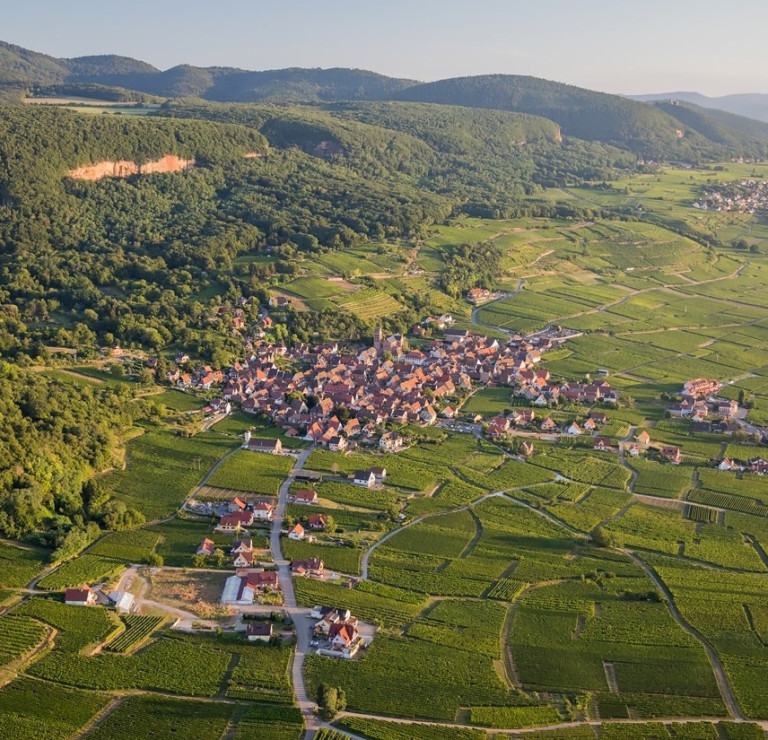 The Goldert of Gueberschwihr is the only locality in Alsace where the geological substratum is composed solely of marine oolithic limestone. Traditionally, the majority of the Goldert is planted to Gewurztraminer and Muscat. These grape varieties are reputed for producing wines with great finesse, structure and a discreet, however complex, bouquet.