Riesling Heimbourg 2015
Dry Wine
Technical presentation
| | |
| --- | --- |
| Bottling : | February 2017 |
| Acquired alcohol : | 12.5° |
| Residual sugar : | 4.5 g/l |
| Total acidity : | 3.8 g/l H2SO4 |
| pH : | 3.13 |
| Yield : | 46 hl/ha |
| Optimum tasting : | 2020-2035+ |
| Average age of vines : | Vineyard planted in 1994 |
| Terroir : | Heimbourg |
| Sweetness index : | 1 |
| Soil : | Calcaire Oligocène, South/South East facing, Steep slope |
Description of the wine Riesling Heimbourg 2015
The Heimbourg single vineyard (9ha) is located on a small detached hillside, east of the Grand Cru Brand, in Turckheim. Between the two hills, there are many geological fault lines on a short distance. The Heimbourg lies on a young Oligocene limestone marl soil, facing south to west on a very steep slope. Mostly abandoned after WW1, my father Leonard started to acquire land there in the 70s. It took a long time to repair the walls, pull out the trees and plant the 4.5ha that we have today. Turckheim is a very precocious area, but the Heimbourg enjoys a slightly cooler soil and exposition. The soil is quite shallow, especially on the top part of the vineyard and therefore yields are naturally quite low for a limestone vineyard. This vineyard can climb high in ripeness and harvesting the right day can be tricky. I believe we nailed it perfectly in 2015 and it produced a fantastic dry Riesling.
Tasting notes
8/2017: bright yellow colour. The nose is typical of Heimbourg at this early stage: tight, austere, mineral, strong lees influence, but despite an almost reductive aspect, it reveals quickly ripe citrus fruit. Elegant mid palate, but the limestone large texture provides a certain weight. Long and very dry finish with the classic vintage tannins. The Heimbourg dominates the richness of the vintage and delivers a classic style worth ageing many years.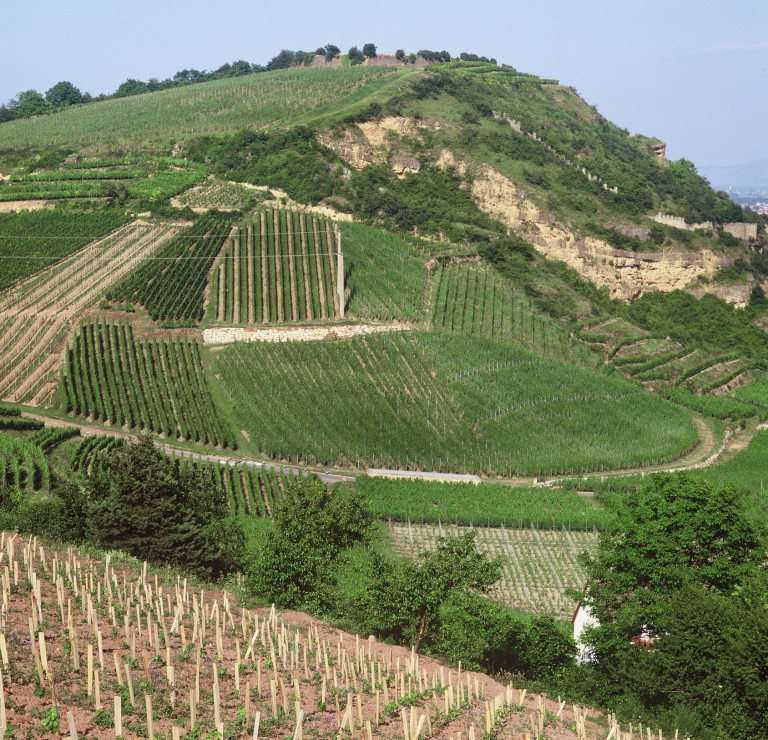 The wines produced on the Heimbourg are rich, opulent, often spicy and can include noble rot. The slower ripening of the grapes often produces wines that are aromatically expressive from a young age, contrary to its neighbour the Clos Jebsal with whom we have to show patience.