Technical presentation
| | |
| --- | --- |
| Bottling : | January 2023 |
| Acquired alcohol : | 12 ° |
| Residual sugar : | 0.5 g/l |
| Total acidity : | 3.4 g/l H2SO4 (5.2 g/l Tartrique) |
| pH : | 3.3 |
| Yield : | 39 hl/ha |
| Optimum tasting : | 2026/2041+ |
| Average age of vines : | 34 years |
| Terroir : | Grand Cru Goldert |
| Sweetness index : | 1 |
| Available for sale : | Yes |
| Soil : | Oolithic calcareous |
Description of the wine Muscat Grand Cru Goldert 2021
This grape variety is today quite rare in Alsace (less than 2%) and it will certainly remain like this as Muscat can be a difficult cultivar. It however found its home in this Grand Cru where it represents almost 40% of the surface of the Goldert. In 2020 we decided to pull out all our Gewurztraminer vineyard in the Goldert and they will be replanted in 2023 with Muscat d'Alsace. Unfortunately, Gewurztraminer in the Goldert needs to be at an almost late harvest ripeness to be fully ripe, and the current climate does not allow for much noble rot development. The Oolithic limestone facing east on a gentle slope is perfect for a slow ripeness of the grapes and keeps a good acidity.This wine ferments slowly and evolves like a Riesling wine. So achieving a dry wines requires a precision harvest and patience. The result is so interesting as the Goldert wines are fruit and mineral driven, especially if kept for a few years before being drunk.
Tasting notes
1/2023: Straw yellow colour. The nose is very expressive and intense, showing now beautiful ripe floral and fruity exotic flavours in this vintage, almost reminiscent of a later harvested style. The palate comes as a big surprise as it is completely dry. The acidity is ripe, racy and salivating. Very broad on the attack, it narrows in a mineral tight dry finish, showing the complexity of this great vineyard. Very long finish and it will most certainly age extremely well!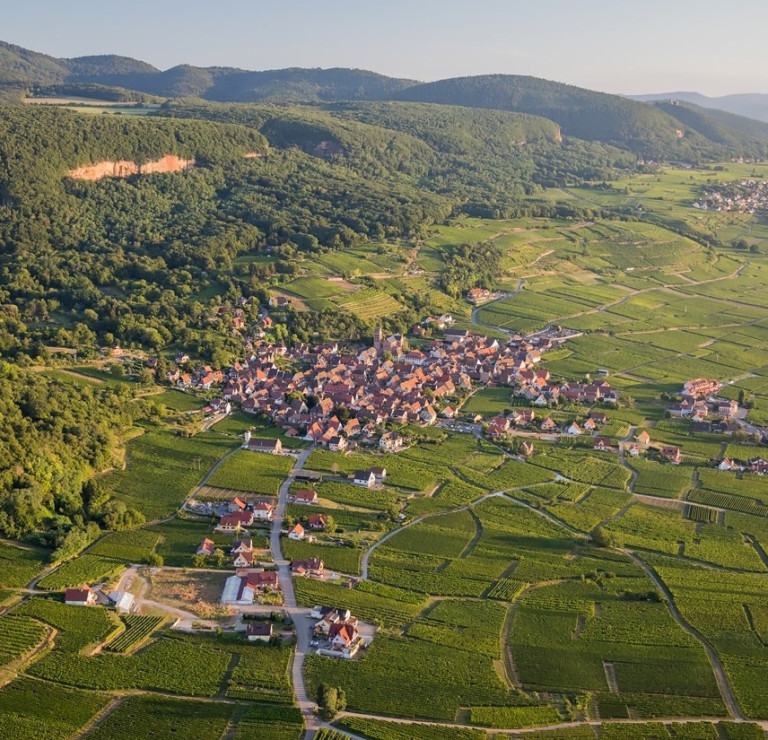 The Goldert of Gueberschwihr is the only locality in Alsace where the geological substratum is composed solely of marine oolithic limestone. Traditionally, the majority of the Goldert is planted to Gewurztraminer and Muscat. These grape varieties are reputed for producing wines with great finesse, structure and a discreet, however complex, bouquet.