Technical presentation
| | |
| --- | --- |
| Bottling : | February 2010 |
| Acquired alcohol : | 12.5° |
| Residual sugar : | 9.2 g/l |
| Total acidity : | 5.7 g/l H2SO4 |
| pH : | 3.0 |
| Yield : | 47 hl/ha |
| Optimum tasting : | 2012-2020 |
| Average age of vines : | 34 years |
| Terroir : | Grand Cru Goldert |
| Sweetness index : | 1 |
| Soil : | East & South facing, Gentle slope, Limestone/calcareous/siliceous |
Description of the wine Riesling Gueberschwihr 2008
Gueberschwihr is a village located 10km south of Colmar. It enjoys a slightly cooler and less precocious climate and most of the vineyards are located on marl limestone soils. The best vineyards of the village are on the Grand Cru Goldert, where Gewurztraminer and Muscat are king, and the surrounding vineyards that enjoy cooler growing conditions, can produce typical crisp mineral style Riesling wines. This grape took some time to ripen in 2008 and eventually was harvested very healthy with a huge acidity and low pH. A lower pH can increase the acid taste a lot on the palate. A 3.0 pH wine will taste much crisper than a 3.5 pH wine that has the same acidity (sorry, that's chemistry…), and usually, most of our Riesling wines are between 3.3 and 3.6, while most of the 2008s are below 3.2! The fermentation of this wine was excruciatingly slow and many 2009 had finished fermenting when we could rack this wine!
Tasting notes
2/2010: this is one of the 2008 Riesling that show strong mineral stony aromatics on the nose, almost like wet stone. The palate is zesty and sharp, but eventually develops into a great richness with a long finish. I could not believe the analysis that showed 9g/l RS and that is why I keep the indice 1 rating. The finish is clean crisp Riesling that begs for a few more years of ageing…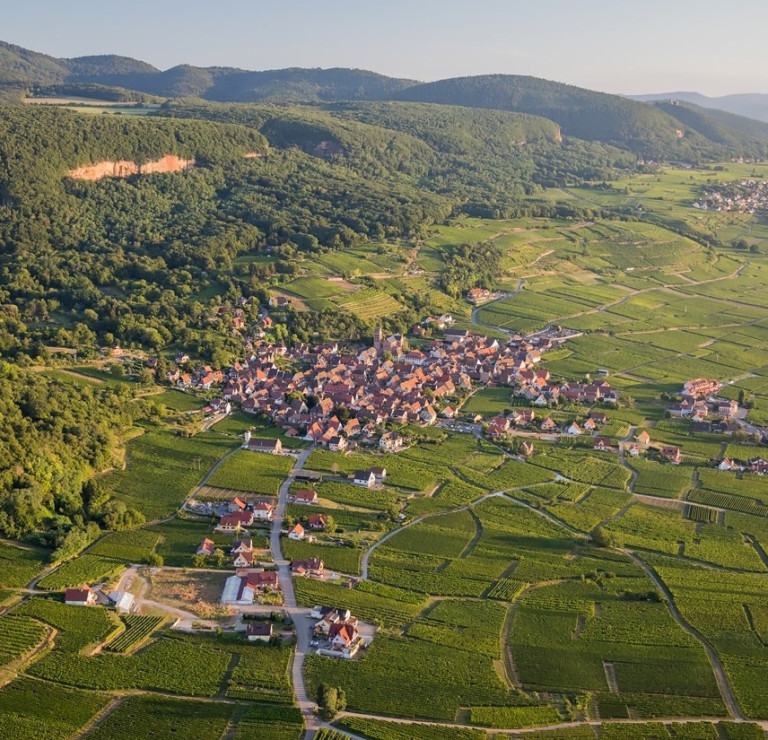 The Goldert of Gueberschwihr is the only locality in Alsace where the geological substratum is composed solely of marine oolithic limestone. Traditionally, the majority of the Goldert is planted to Gewurztraminer and Muscat. These grape varieties are reputed for producing wines with great finesse, structure and a discreet, however complex, bouquet.