Muscat Grand Cru Goldert 2009
Medium Dry Wine
Technical presentation
| | |
| --- | --- |
| Bottling : | February 2010 |
| Acquired alcohol : | 12.5° |
| Residual sugar : | 15.0 g/l |
| Total acidity : | 4.1 g/l H2S04 |
| pH : | 3.4 |
| Yield : | 49 hl/ha |
| Optimum tasting : | 2012-2024+ |
| Average age of vines : | 22 years |
| Terroir : | Grand Cru Goldert |
| Sweetness index : | 2 |
| Soil : | 90% Muscat d'Alsace & 10% Ottonel, East facing, Oolithic calcareous |
Description of the wine Muscat Grand Cru Goldert 2009
The late ripening and marl rich Goldert vineyard in Gueberschwihr managed to produce a Muscat wine well balanced in acidity, which can look surprising considering the warm September month of 2009. The grapes were harvested slightly later, without any noble rot and showing perfect ripeness, which is always complicated on the small berry Muscat cultivar. The precocity of the vintage usually helped for fast and powerful fermentations, but here, this wine resisted and despite a yeast activity that lasted over 12 months it kept a certain amount of residual sweetness.
Tasting notes
2/2011: the nose is characteristic of limestone vineyards in 2009. Early days, it is possible to detect some reductive, lees characters, usually enhanced on the early harvested vintages and also stronger on very healthy crops. This characteristic disappears after some aeration; therefore racking the wine wasn't necessary. The typical fruity flavours show up with air, but it is still the minerality of the Goldert that dominates. The palate shows some elegant sweetness.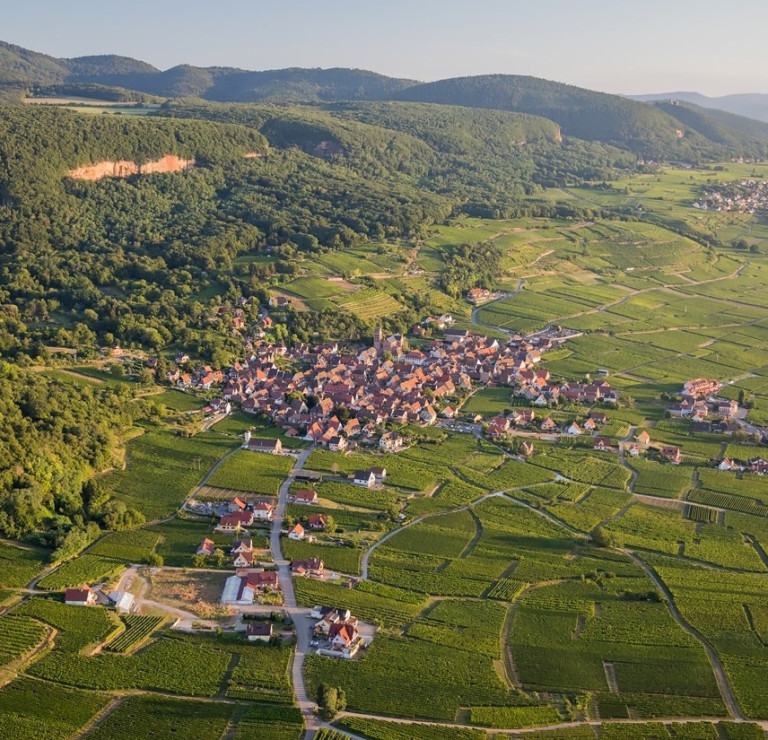 The Goldert of Gueberschwihr is the only locality in Alsace where the geological substratum is composed solely of marine oolithic limestone. Traditionally, the majority of the Goldert is planted to Gewurztraminer and Muscat. These grape varieties are reputed for producing wines with great finesse, structure and a discreet, however complex, bouquet.