Technical presentation
| | |
| --- | --- |
| Bottling : | September 2012 |
| Acquired alcohol : | 13.5° |
| Residual sugar : | 62 g/l |
| Total acidity : | 3 g/l H2S04 |
| pH : | 3.7 |
| Yield : | 39 hl/ha |
| Optimum tasting : | 2015-2026+ |
| Average age of vines : | 28 years |
| Terroir : | Grand Cru Goldert |
| Sweetness index : | 5 |
| Available for sale : | Yes |
| Soil : | East facing, Oolithic calcareous |
Description of the wine Gewurztraminer Grand Cru Goldert 2011
The Goldert has a very discreet topography and is hiding amongst the surrounding hills. Its gentle east facing slope would not catch the tourist travelling on the wine road, but the expert eye would surely notice its beautiful golden limestone soil that is responsible for the quality of the wines and long-time high reputation. Associated with a cooler and less precocious climate, the Goldert is one of the latest Gewurztraminer to be harvested on the estate. The soil is deep and rich in marl; therefore the vigor of the vines and the yields can be important and need to be controlled. The 2011 vintage condition were perfect for this vineyard which was able to produce a rich intense wine.
Tasting notes
2/2013: faithful to himself, the Goldert shows delicate and persisting floral/fruity aromas (roses, litchi) as well as announcing a rich wine on the palate. The influence of the Goldert Grand Cru is on how fine and complex these aromas are presented. Most ordinary vineyard with such intensity would not be able to stay elegant. After some aeration, minerality kicks in (wet stones). The mouth is generous and expressive. The sweetness is well present right at the attack, without heaviness, and a noble bitterness allows for harmonious balance and ageing potential.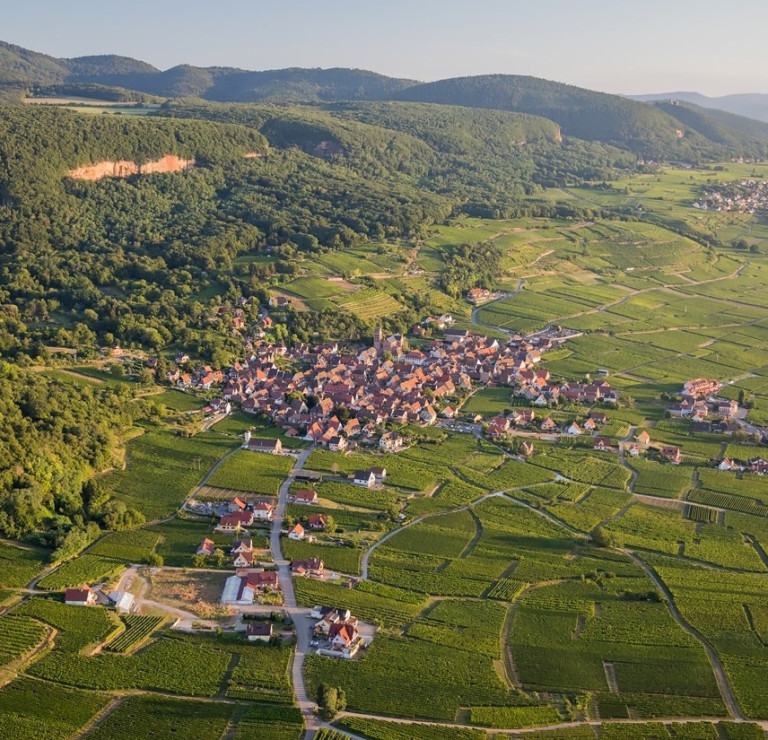 The Goldert of Gueberschwihr is the only locality in Alsace where the geological substratum is composed solely of marine oolithic limestone. Traditionally, the majority of the Goldert is planted to Gewurztraminer and Muscat. These grape varieties are reputed for producing wines with great finesse, structure and a discreet, however complex, bouquet.