Muscat Grand Cru Goldert 2012
Dry Wine
Technical presentation
| | |
| --- | --- |
| Bottling : | February 2014 |
| Acquired alcohol : | 14° |
| Residual sugar : | 6.5 g/l |
| Total acidity : | 5.1 g/l H2S04 |
| pH : | 3.2 |
| Yield : | 55 hl/ha |
| Optimum tasting : | 2017-2027+ |
| Average age of vines : | 25 years |
| Terroir : | Grand Cru Goldert |
| Sweetness index : | 1 |
| Soil : | 90% Muscat d'Alsace & 10% Ottonel, East facing, Oolithic calcareous |
Description of the wine Muscat Grand Cru Goldert 2012
The east facing gentle marl soil of the Goldert benefits from a cooler and late ripening climate. Definitely very favorable to the Muscat grape, and within the Muscat different varieties: the Muscat Petit Grains (red and white here) is capable to achieve much more interesting complexity and acidity than the more fruity easier Ottonel. In 2012 we were amazed by how quickly these grapes ripened and kept a brilliant acidity. A slow but powerful fermentation allowed the wine to finish dry.
Tasting notes
2/2014: Intense fruity nose, showing great ripeness character. This is a very classic Goldert with intense flavours yet also displaying austere minerals and a natural discretion, so far away from the varietal expression of Muscat. The palate is tight, rich and dry and finishes with a mouthwatering acidity. This is an intense Muscat but also so delicate and pure. Great ageing potential and definitely meant to go with food.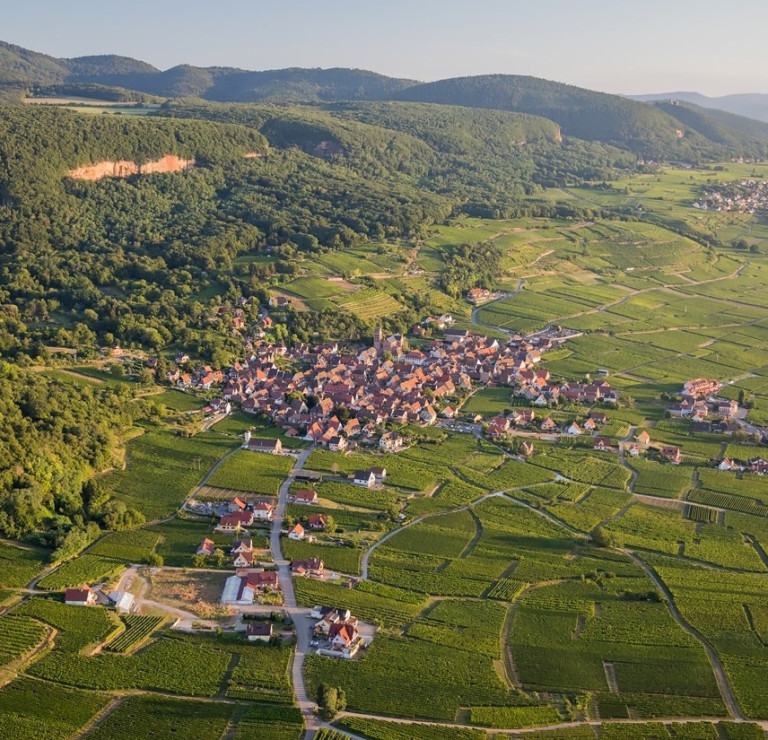 The Goldert of Gueberschwihr is the only locality in Alsace where the geological substratum is composed solely of marine oolithic limestone. Traditionally, the majority of the Goldert is planted to Gewurztraminer and Muscat. These grape varieties are reputed for producing wines with great finesse, structure and a discreet, however complex, bouquet.