Technical presentation
| | |
| --- | --- |
| Bottling : | August 2016 |
| Acquired alcohol : | 12.5 ° |
| Residual sugar : | 2.0 g/l |
| Total acidity : | 3.0 g/l H2S04 |
| pH : | 3.37 |
| Yield : | 41 hl/ha |
| Optimum tasting : | 2017/2025 |
| Average age of vines : | 40 years |
| Terroir : | Herrenweg de Turckheim |
| Soil : | Oligocene calcareous & gravely soil |
Description of the wine Pinot Blanc 2015
Autrefois nommé Pinot d'Alsace, ce qui dans la tradition alsacienne désigne un assemblage Auxerrois/Pinot Blanc, ce vin trouve son origine dans les vignobles du Herrenweg à Turckheim et Rotenberg à Wintzenheim. En 2015, la proportion de Pinot Blanc était légèrement plus importante que l'Auxerrois, ce dernier ayant plus souffert du soleil. Les calcaires rouges du Rotenberg, qui bénéficient d'une exposition ouest plus tardive renforcée par l'altitude (350m), ont produit la majorité des raisins composant ce vin, les graves du Herrenweg ayant produit une très faible récolte. Le terroir plus précoce des graves de Turckheim ont été plus touchés par la sécheresse mais aussi par les phénomènes de coulure lors de la floraison. Cela a fortement changé le style du vin en lui donnant une structure plus ferme dans un millésime pourtant très chaud. La fermentation fut moyennement longue (6 mois) et les levures indigènes ont parfaitement pu accomplir leur mission de produire un vin très sec.
Tasting notes
9/2016: belle couleur jaune pale. Le nez est déjà expressif mais continue à s'ouvrir sur une journée entière. Il dévoile alors de belles notes florales/fruitées (chèvrefeuille, pêche, melon…) mais aussi une influence nette du calcaire. L'influence du Rotenberg, majoritaire en 2015, ne fait aucun doute. Le palais possède une belle présence en bouche, très élégant mais serré, et fini sec et tendu. L'acidité mûre et salivante, non agressive, caractéristique des 2015, apporte une pureté à l'ensemble. C'est un Pinot Blanc qui sort un peu du concept variétal classique.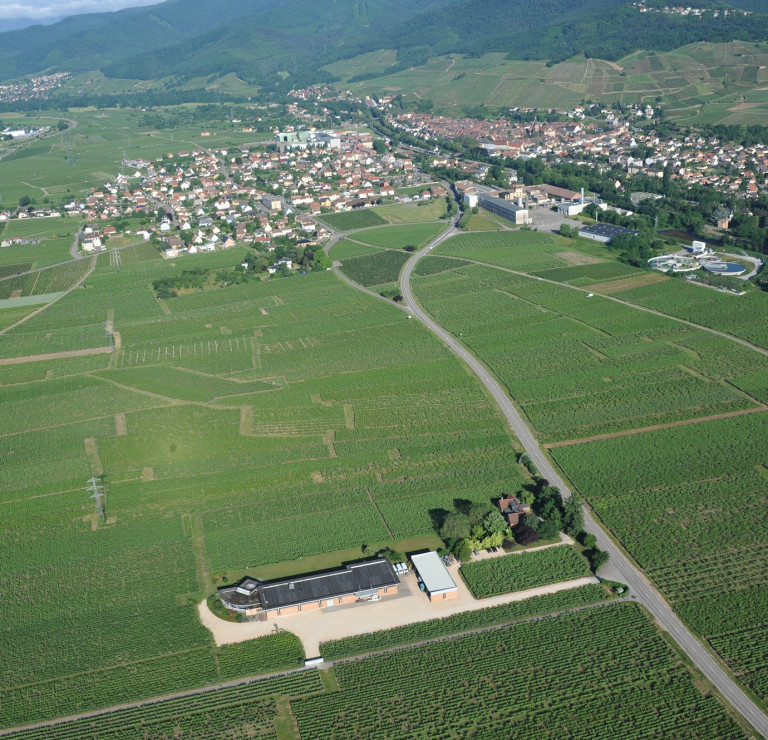 The wines from Herrenweg of Turckheim are always very aromatic, advanced in their development and are always defined by a very ripe acidity and opulent fruit. The wines from Herrenweg are accessible and generous in their youth and although they are often best enjoyed at this stage can surprise 10 or even 20 years later.