Technical presentation
| | |
| --- | --- |
| Bottling : | February 2019 |
| Acquired alcohol : | 12.9 ° |
| Residual sugar : | 0.5 g/l |
| Total acidity : | 3.3 g/l H2SO4 |
| pH : | 3.8 |
| Yield : | 16 hl/ha |
| Optimum tasting : | 2022-2029 |
| Average age of vines : | Vineyard planted in 1995 |
| Terroir : | Heimbourg |
| Soil : | Calcaire Oligocène, West facing |
Description of the wine Pinot Noir Heimbourg 2017
This is the only vineyard planted with Pinot-Noir on the domaine. These 0.32ha are located on the west slope of the Heimbourg vineyard in Turckheim. The soil here is ideal for red wine as it is made of red marl rich in iron. The west facing allows the grapes to ripen slowly while retaining more freshness and good acidity in the grapes. Like many vineyards in Turckheim in 2017, this vineyard suffered from frost in April and the flowering was also chaotic. The crop was therefore very small. The wine was only partially destemmed and made in small barrels of 2 to 3 wines. Bottling without fining and no filtration.
Tasting notes
2/2019: dark rubis red colour. The nose is already very expressive and shows red fruits aromas. The palate is silky and shows a nice density, finishing on serious tannins and structure, typical of 2017. The global impression is that of a serious and racy wine. Nice evolution with air in the glass, this wine will certainly benefit from time in a carafe.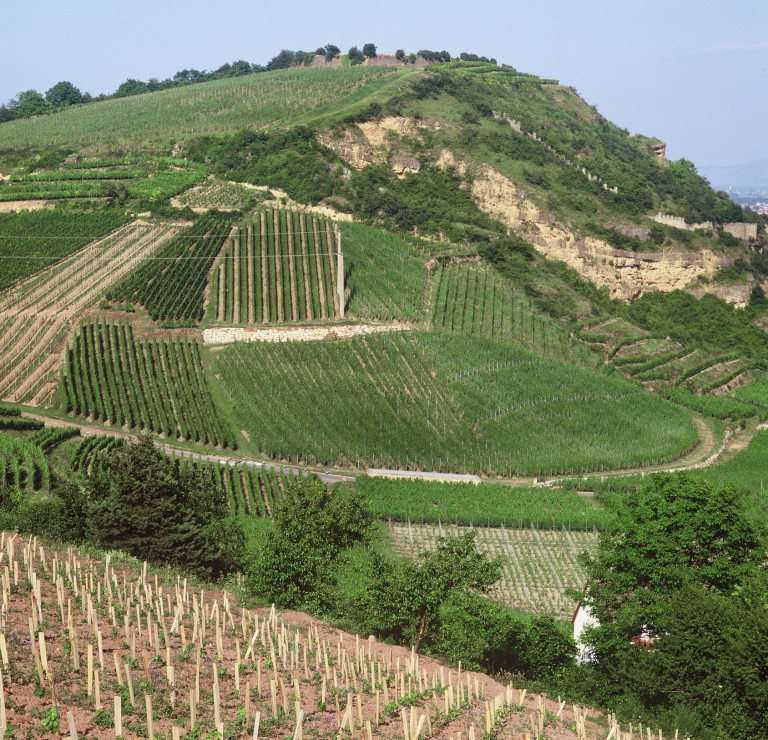 The wines produced on the Heimbourg are rich, opulent, often spicy and can include noble rot. The slower ripening of the grapes often produces wines that are aromatically expressive from a young age, contrary to its neighbour the Clos Jebsal with whom we have to show patience.