Technical presentation
| | |
| --- | --- |
| Bottling : | March 2019 |
| Acquired alcohol : | 11.9° |
| Residual sugar : | 12 g/l |
| Total acidity : | 3.4 g/l H2SO4 / (5.4 g/l Tartrique) |
| pH : | 3.30 |
| Yield : | 71 hl/ha |
| Optimum tasting : | 2020-2023 |
| Average age of vines : | 39 years |
| Terroir : | Herrenweg de Turckheim |
| Sweetness index : | 1 |
| Soil : | Gravely soil |
Description of the wine Muscat Turckheim 2018
The Muscat Turckheim is produced on the richer part of the alluvial soil next to Turckheim. Here, there are less gravels and more silt and very fine sand. The Muscat grape (mostly Muscat Alsace) has found its place and delivers a consistent style: elegant, aromatic, light and dry. The oldest vines were used to select the plants for the most recent vineyard. Unusually, we have mixed in about equal proportion, the red skin and white skin coloured grapes. In 2018, the berries stayed particularly small as a result of the severe summer drought. The skin/juice ratio was therefore higher than usual, which explains the aromatic intensity in 2018. We do not make macerations as such, but have developed, since the 1980s, a very long press program to allow maximum skin extraction without going to change the colour of the wine. Our aim is also to harvest these grapes healthy and at a lower alcohol level to keep this elegant style and also to ensure that it ferments bone dry, which is the case again in 2018. The fermentation was fast and therefore we could release the wine earlier.
Tasting notes
4/2020: Clear pale yellow colour. The nose is exuberant, beautiful, unmistakably Muscat (flowers), but elegant and not overpowering. The palate is deliciously light and easy. It is the perfect summer delight. The finish is harmonious and shows a surprising refreshing acidity, enhanced by a some tannic structure. This wine will go perfectly with many dishes, salads, asparagus, langoustines,… This is not the classic rich sweet fortified Muscat, treat it more like a dry well structured Viognier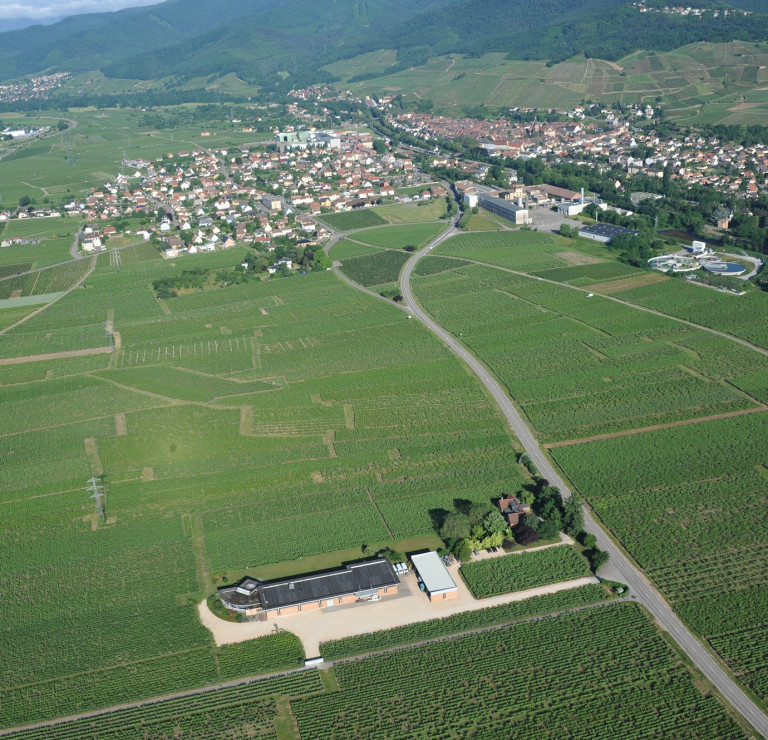 The wines from Herrenweg of Turckheim are always very aromatic, advanced in their development and are always defined by a very ripe acidity and opulent fruit. The wines from Herrenweg are accessible and generous in their youth and although they are often best enjoyed at this stage can surprise 10 or even 20 years later.