Muscat Grand Cru Goldert 2018
Dry Wine
Technical presentation
| | |
| --- | --- |
| Bottling : | January 2020 |
| Acquired alcohol : | 12.8° |
| Residual sugar : | 2.9 g/l |
| Total acidity : | 3.8 g/l H2SO4 / (5.9g/l Tartrique) |
| pH : | 3.20 |
| Yield : | 49 hl/ha |
| Optimum tasting : | 2020-2038+ |
| Average age of vines : | 31 years |
| Terroir : | Grand Cru Goldert |
| Sweetness index : | 1 |
| Soil : | East facing, Gentle slope, Oolithic calcareous |
Description of the wine Muscat Grand Cru Goldert 2018
The Goldert Grand Cru is situated just north of the beautiful village of Gueberschwihr (10km south of Colmar). East facing, the rich dep oolithic marl of the Goldert offers cooler growing conditions, perfect water retention and later ripening climate. This is arguably one of the best site in Alsace (the world) for Muscat d'Alsace and the production of a dry structured and long lived wine. The limestone also brings a minerality and balance that is essential. The dry clear skies of 2018 perfected the ripening of the skins, a very important factor in making Muscat that are not varietal driven. The crop was healthy, despite some worries with powdery mildew in summer (Muscat is very fragile) and the grapes retained a beautiful acidity. The fermentation is a t the opposite of the Turckheim Muscat, it usually takes a full year or more to complete, but goes to the end and allows the wine to be bone dry, as the 2018 demonstrate.
Tasting notes
4/2020: Bright intense yellow colour. The nose is an amazing explosion of fruits, flowers, plants aromas. It is too complex to give a proper description, however, mint, boxwood comes to mind and are classic descriptor of great Goldert wines. This wine opened up after bottling in an unbelievable fashion. The palate is bright, intense, profound and at the same time feels delicate and aerial. The dry finish comes almost as a surprise, as one would have expected sweetness by just nosing the wine. That dry finish brings a serious note, reveal the mineral intensity and reminds the taster that this is a wine that is long lived and worth keeping for decades.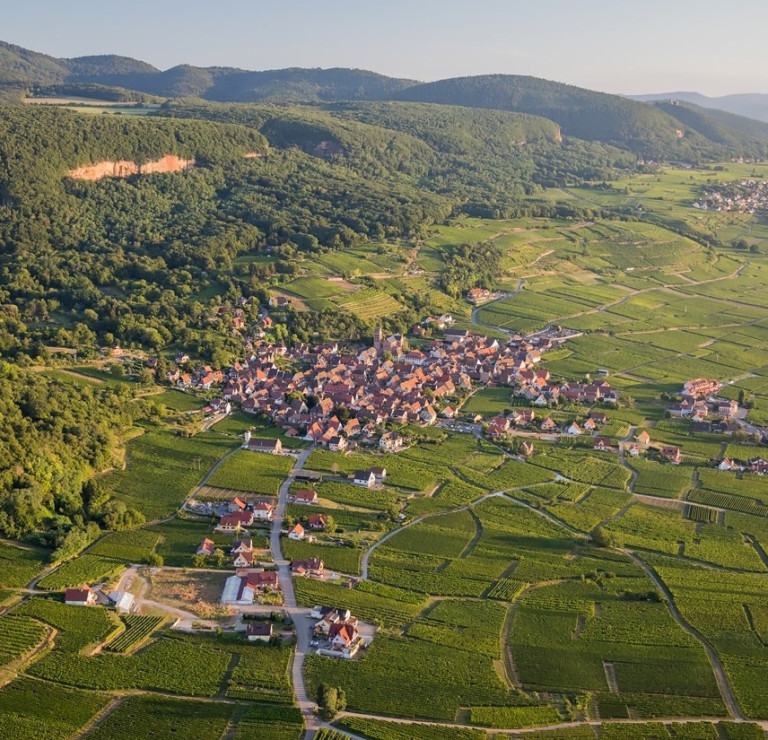 The Goldert of Gueberschwihr is the only locality in Alsace where the geological substratum is composed solely of marine oolithic limestone. Traditionally, the majority of the Goldert is planted to Gewurztraminer and Muscat. These grape varieties are reputed for producing wines with great finesse, structure and a discreet, however complex, bouquet.