Pinot Gris Turckheim 2018
Dry Wine
Technical presentation
| | |
| --- | --- |
| Bottling : | March 2019 |
| Acquired alcohol : | 12,7° |
| Residual sugar : | 12 g/l |
| Total acidity : | 3.1 g/l H2SO4 / (4.7 g/l Tartrique) |
| pH : | 3.60 |
| Yield : | 65 hl/ha |
| Optimum tasting : | 2020-2023 |
| Average age of vines : | 27 years |
| Terroir : | Herrenweg de Turckheim |
| Sweetness index : | 1 |
| Soil : | Gravely soil |
Description of the wine Pinot Gris Turckheim 2018
The Pinot-Gris vineyards entering in this wine are all located on the most gravelly part of the village area. The recent vintages, and especially 2018, taught us that in fact Pinot-Gris is a grape variety that can resist better to sunburns and drought, or at least that the stressed vine is capable to further ripen the grapes. It is also a grape variety, if properly chosen, that has less and smaller cluster and therefore less volume to ripen. In a vintage with normal rainfalls, it actually can sometime ripen too quickly and reach alcohol potential that can be too high! The gravelly/sandy valley floor in Turckheim was hot and dry in 2018, putting a lot of pressure on the vines. Berries were small in 2018 and very dark in colour (sun intensity!), influencing the colour and style of the wine. This was the first vineyard harvested in 2018, and the first one to finish fermentation, completely dry.
Tasting notes
4/2020: yellow rich colour. The nose shows nice toasty, dry herbs, nutty aromas. Very straight forward and actually quite intense. The palate is elegant, almost light, which comes as a good surprise. The texture is round, sapid, velvety. The finish is dry, showing a certain tannic influence, almost like a light red wine. This wine will be so easy to use at the table, and will have no problem with white meat, poultry, duck….. Not meant for long ageing, it will show its best potential in the first 5 years.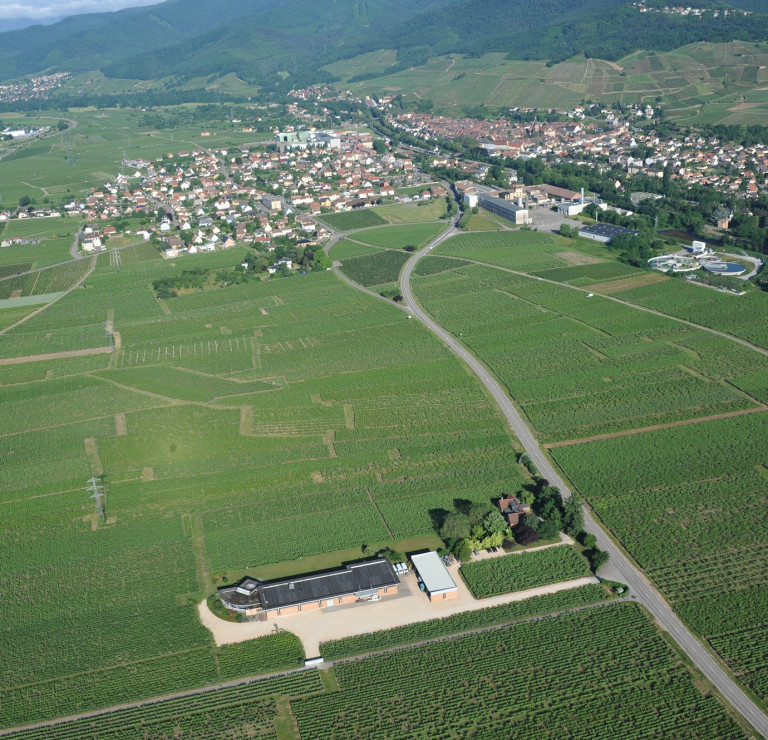 The wines from Herrenweg of Turckheim are always very aromatic, advanced in their development and are always defined by a very ripe acidity and opulent fruit. The wines from Herrenweg are accessible and generous in their youth and although they are often best enjoyed at this stage can surprise 10 or even 20 years later.