Technical presentation
| | |
| --- | --- |
| Bottling : | January 2023 |
| Acquired alcohol : | 13 ° |
| Residual sugar : | 0.6 g/l |
| Total acidity : | 4.0 g/l H2SO4 (6.1 g/l Tartrique) |
| pH : | 3.3 |
| Yield : | 15 hl/ha |
| Optimum tasting : | 2026/2039+ |
| Average age of vines : | 36 years |
| Terroir : | Heimbourg |
| Sweetness index : | 1 |
| Available for sale : | Yes |
| Soil : | Calcaire Oligocène |
Description of the wine Pinot Gris Heimbourg 2021
The Pinot Gris is planted on the upper part of the Heimbourg vineyard in Turckheim. Facing west, on a steep slope, it enjoys a relatively cool climate being exposed to the valley winds. At the opposite of the Rotenberg vineyard located on the other side of the valley, the Heimbourg vineyard gets a few more hours of sunshine in the evening, which probably explain why the vineyard produces more aromatic style wines. The Oligocen limestone soil is here a complex combination of old Oolithic pebbles cemented in an aggressive calcareous limestone, rich in iron (red colour). The influence on the wine is tremendous. Pinot Gris is a fantastic grape variety, but just like its brother the Pinot-noir, it needs a firm influence of the terroir in order to achieve great wines. In 2021, the crop size was unfortunately very small. The grapes were healthy and allowed for the wine to ferment very dry.
Tasting notes
1/2023: Intense yellow colour. The nose is still quite discreet, showing delicate white fruit, pears, peach, a hint of smokiness and wax like most other Pinot Gris from that vintage. It really takes some time to open up in the glass at this very early stage. The mouth is very dry, but supported by a velvety texture that brings a certain roundness on the middle palate. Medium long finish, supported by a salivating acidity and a very elegant structure. The longer full lees contact we do with the Pinot Gris wines bring a definite richness and intensity, but also makes the wine close up more just after bottling. So like for most of our wines, decantation, if opened young, is very helpful.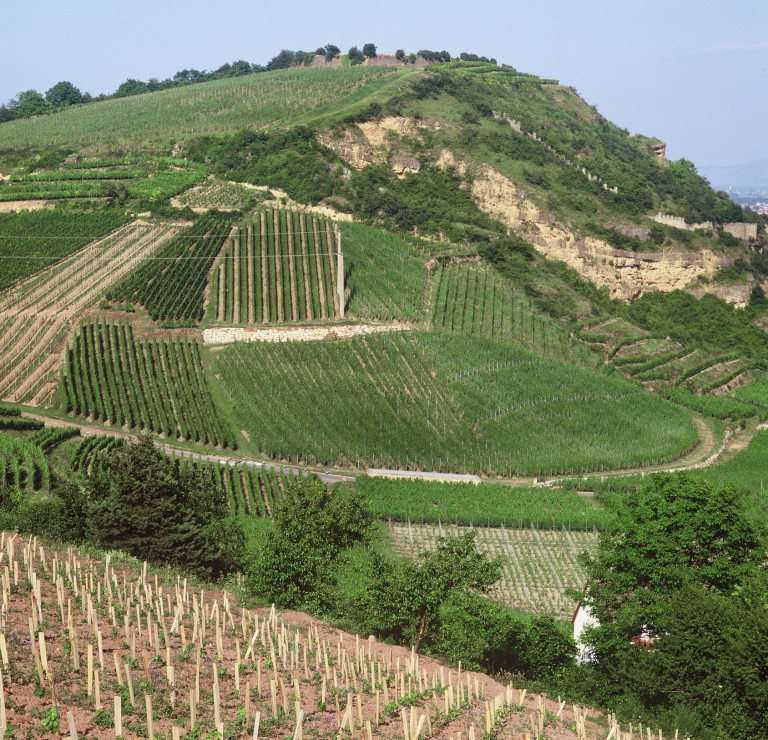 The wines produced on the Heimbourg are rich, opulent, often spicy and can include noble rot. The slower ripening of the grapes often produces wines that are aromatically expressive from a young age, contrary to its neighbour the Clos Jebsal with whom we have to show patience.