Muscat Grand Cru Goldert 2008
Dry Wine
Technical presentation
| | |
| --- | --- |
| Bottling : | February 2010 |
| Acquired alcohol : | 13.5° |
| Residual sugar : | 2.7 g/l |
| Total acidity : | 4.7 g/l H2SO4 |
| pH : | 3.3 |
| Yield : | 39 hl/ha |
| Optimum tasting : | 2012-2023+ |
| Average age of vines : | 21 years |
| Terroir : | Grand Cru Goldert |
| Sweetness index : | 1 |
| Soil : | 90% Muscat d'Alsace & 10% Ottonel, East facing, Oolithic calcareous |
Description of the wine Muscat Grand Cru Goldert 2008
The Goldert Grand Cru vineyard has always enjoyed a great reputation for its Muscat grape, especially the traditional Muscat d'Alsace, more difficult to ripen properly, but capable to produce wines with great structure and ageing potential. In order to show the soil characteristics, the Muscat grape has to be harvested quite ripe, so the varietal flavours are less intensely perfumed. This means that very often, Muscat wines can be quite sweet or off dry. The Goldert 2008 was harvested very ripe, with great acidity and very healthy grapes. The fermentation never stopped, despite the fact that it lasted over 12 months, and allowed the wine to finish dry. This is a fantastic combination, as this wine really shows the vineyard character at its best.
Tasting notes
2/2010: there is no doubt that this is made from Muscat grape on the nose, as all the grapey/fruity aromatics are there, but nicely tempered by the solid influence of the calcareous rock that add a strong sense of minerality on the nose. The palate is vibrant, fully dry and very long. It is clearly a wine that will last and age beautifully but it is also a wine that will allow fantastic food pairings, mostly with fish courses and seafood in a fusion style presentation.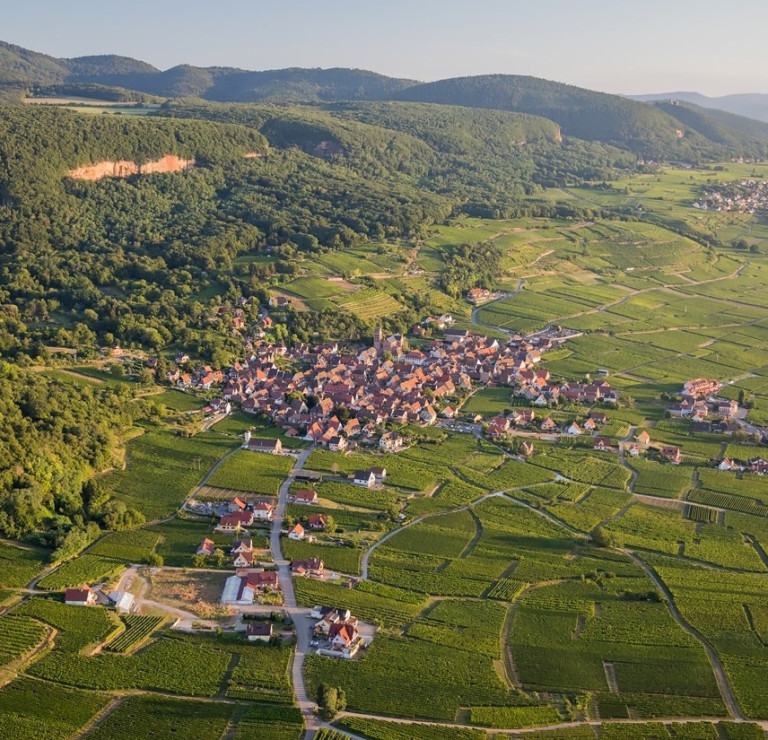 The Goldert of Gueberschwihr is the only locality in Alsace where the geological substratum is composed solely of marine oolithic limestone. Traditionally, the majority of the Goldert is planted to Gewurztraminer and Muscat. These grape varieties are reputed for producing wines with great finesse, structure and a discreet, however complex, bouquet.