Technical presentation
| | |
| --- | --- |
| Bottling : | September 2010 |
| Acquired alcohol : | 14° |
| Residual sugar : | 2.0 g/l |
| Total acidity : | 3.2 g/l H2S04 |
| pH : | 3.6 |
| Yield : | 69 hl/ha |
| Optimum tasting : | 2010-2015 |
| Average age of vines : | 18 years |
| Terroir : | Herrenweg de Turckheim |
| Sweetness index : | 1 |
| Soil : | Gravely soil |
Description of the wine Pinot Gris 2009
Pinot Gris is often the grape variety that can suffer the most from hot and dry weather in producing wine that can be burning and lacking grip, however, it is also a grape variety that needs some ripeness in order to develop nice flavours and interesting structure. More than any other grape in 2009, we tried to harvest the Pinot Gris before it started to develop any noble rot and definitely tried to avoid unnecessary over ripeness in the Herrenweg vineyard, which produced the biggest part of this wine. The Herrenweg is a gravely valley floor vineyard, well drained and precocious. It is capable of producing elegant aromatic style of wines, which is the definition of this varietal Pinot Gris. Not many of our customers have seen a perfectly dry style Pinot Gris from us for many years, as it can often keep some roundness while finding it difficult to finish fermenting all the sugars. The 2009 finished perfectly dry in a very clean pure style as the crop was perfectly healthy.
Tasting notes
2/2011: this was probably the quickest wine to finish fermenting in 2009, and right from that time, it is showing the exact same characteristics: elegant soft aromatics, nutty, light creamy toasty character with some light minerals. The palate is elegant and very well defined. Despite a very decent ripeness, it seems lighter than 14% and the fact that it is very dry makes it actually very interesting. The wine is now nicely opened up. It will be very easy to use with chicken, poultry, light meaty dishes or sea food.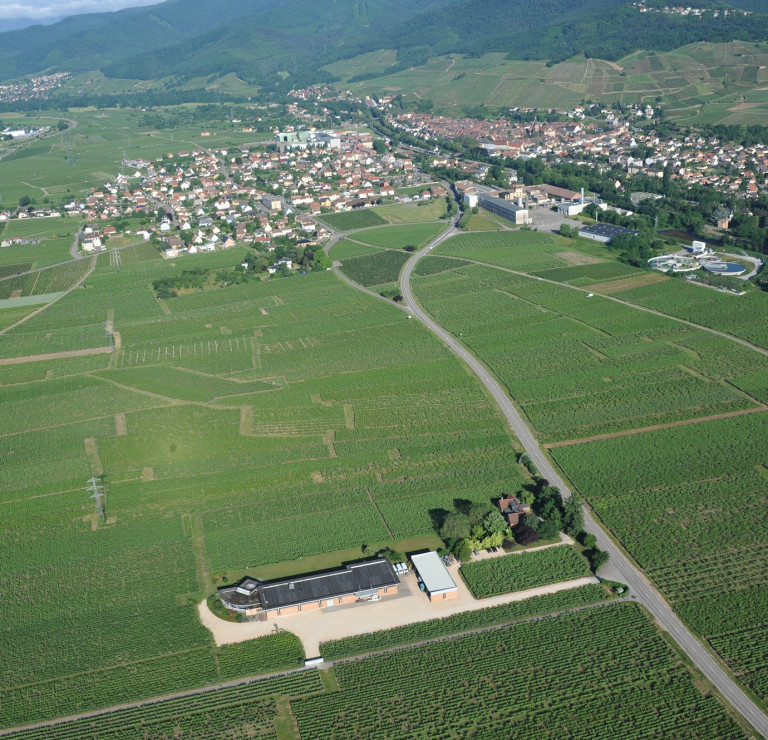 The wines from Herrenweg of Turckheim are always very aromatic, advanced in their development and are always defined by a very ripe acidity and opulent fruit. The wines from Herrenweg are accessible and generous in their youth and although they are often best enjoyed at this stage can surprise 10 or even 20 years later.