Technical presentation
| | |
| --- | --- |
| Bottling : | September 2009 |
| Acquired alcohol : | 13.5° |
| Residual sugar : | 19.0 g/l |
| Total acidity : | 3.9 g/l H2S04 |
| pH : | 3.3 |
| Yield : | 31 hl/ha |
| Optimum tasting : | 2013-2024+ |
| Average age of vines : | 24 years |
| Terroir : | Heimbourg |
| Sweetness index : | 3 |
| Soil : | Marl calcareous, West facing |
Description of the wine Pinot Gris Heimbourg 2009
The Pinot Gris is planted in the top part of the Heimbourg, which is the poorest and exposed to the west, on very thin and rocky calcareous soils. It is probably the vineyard on our estate that has the highest pH at the roots level: 9.5, which explains why young vines struggle to grow here. The vineyard is still quite young, but does behave like a much more mature one. The Heimbourg is slowly showing its potential as one of the great place of Turckheim. In 2009, the production was quite small and the grapes were harvested very healthy with a nice balance. The fermentation was slow and the wine kept some sweetness.
Tasting notes
2/2011: everything is round and delicate in this wine. The aromas are dominated by almonds, light honey touch and some torrefaction (toast) with elegant lees contact flavours. The palate is slightly more closed, soft and almost delicate. The sweetness is surprisingly hidden in the wine. One can more sense the ripeness of the vintage than the actual sweetness. Long clean finish. The slightly higher residual sweetness also covers a nice phenolic ripeness and some tannin.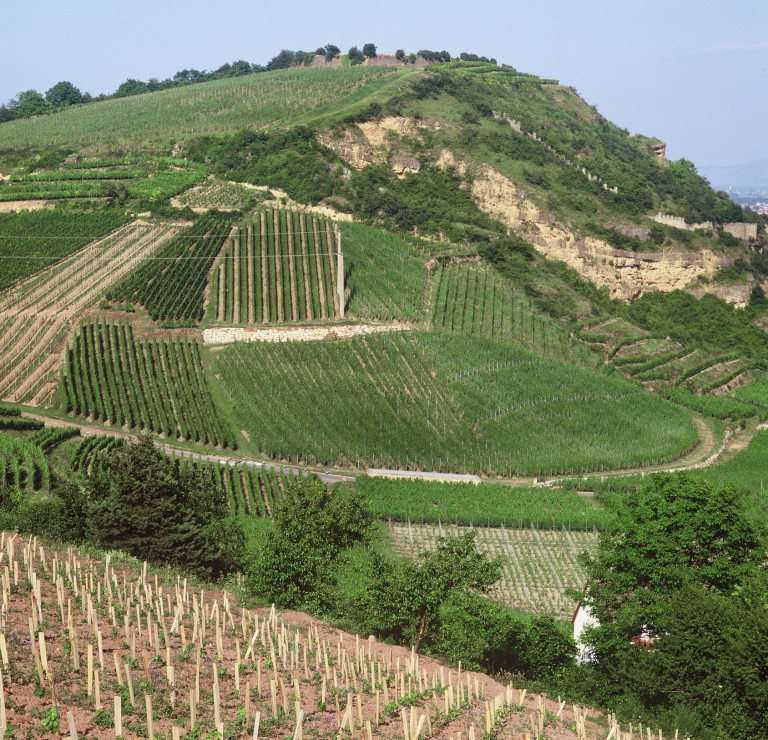 The wines produced on the Heimbourg are rich, opulent, often spicy and can include noble rot. The slower ripening of the grapes often produces wines that are aromatically expressive from a young age, contrary to its neighbour the Clos Jebsal with whom we have to show patience.