Riesling Heimbourg 2011
Medium Dry Wine
Technical presentation
| | |
| --- | --- |
| Bottling : | September 2012 |
| Acquired alcohol : | 12.5° |
| Residual sugar : | 4.1 g/l |
| Total acidity : | 4.1 g/l H2S04 |
| pH : | 3.2 |
| Yield : | 59 hl/ha |
| Optimum tasting : | 2014-2026 |
| Average age of vines : | 20 years |
| Terroir : | Heimbourg |
| Sweetness index : | 2 |
| Soil : | Calcaire Oligocène, South/South East facing, Very steep slope |
Description of the wine Riesling Heimbourg 2011
The Heimbourg is a small single vineyard located on the village of Turckheim; its facing varies from south-west to west, on well drained steep slopes of Oligocene limestone. According to the steepness of the slope, the mother rock is more or less covered by marl. The Riesling is planted on the steepest part of the Heimbourg (50%) which is also the warmest. In a hot year like 2011, the ripeness can be high, making it more difficult for the yeasts to ferment. This wine wasn't harvested with a potential alcohol any higher than many other Riesling produces in 2011, but the yeasts in this wine must have been lazier, leaving more residual sweetness.
Tasting notes
2/2013 : first quite closed and mineral, the nose opens progressively on fruity aromas while staying very delicate, thanks to the cooling effect of the limestone. The mouth is vivacious, shows stony flavors and it takes a long aeration to finally have a glimpse of the fruity potential of this wine. Lower alcohol means a very delicate mouth touch and it is only on the finish that the sweetness starts to kick in. Sometimes tasting like an indice 3, I settled for 2 because I believe that with age the sweetness will blend into the wine.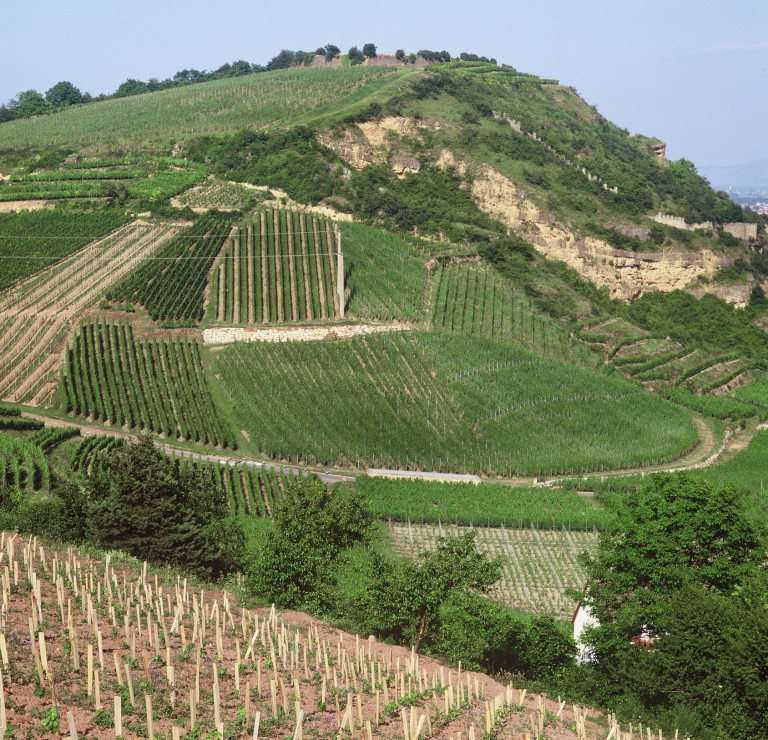 The wines produced on the Heimbourg are rich, opulent, often spicy and can include noble rot. The slower ripening of the grapes often produces wines that are aromatically expressive from a young age, contrary to its neighbour the Clos Jebsal with whom we have to show patience.