Technical presentation
| | |
| --- | --- |
| Bottling : | February 2016 |
| Acquired alcohol : | 12° |
| Residual sugar : | |
| Total acidity : | 3.6 g/l H2SO4 |
| pH : | 3.2 |
| Yield : | 37 hl/ha |
| Optimum tasting : | 2016-2019 |
| Average age of vines : | 35 years |
| Terroir : | Herrenweg de Turckheim |
| Sweetness index : | 1 |
| Soil : | 15% Muscat Ottonel, 85% Muscat d'Alsace, Gravely soil |
Description of the wine Muscat Turckheim 2014
The grapes used to make this wine originate from the alluvial valley floor near Turckheim. Over the years, we have replaced and replanted some vineyards in order to increase the Muscat d'Alsace proportion and decreasing the Ottonel. This area is ideal to express the varietal characteristics of the grape but it also enjoys a very precocious climate. The risk of losing too much acidity and gaining high alcohol is important with a grape like the Muscat Ottonel. The Muscat d'Alsace (petits grains) needs more time, keeps better acidity and is able to make balanced wines. It is however important to ensure proper physiological ripeness, because unripe petit grain Muscat can be very herbaceous. This slow change explains why today we often have higher acids and more freshness in this wine. The fermentation was very slow and the wine finished bone dry to our great satisfaction. Quantities are small because the red Muscat D'Alsace was completely destroyed by the drosophila and we could only use the white Muscat d'Alsace.
Tasting notes
3/2015: still in cask, the fermentation is just completed. The nose is expressive, showing typical floral aromatics. The palate is light and elegant and the finish is bone dry. I expect the alcohol to relatively low which makes it a very enjoyable wine. The bottling is later than usual only because the fermentation was so long. 6/2016: very expressive, elegant, dry. This wine is holding all its promises and is now very enjoyable.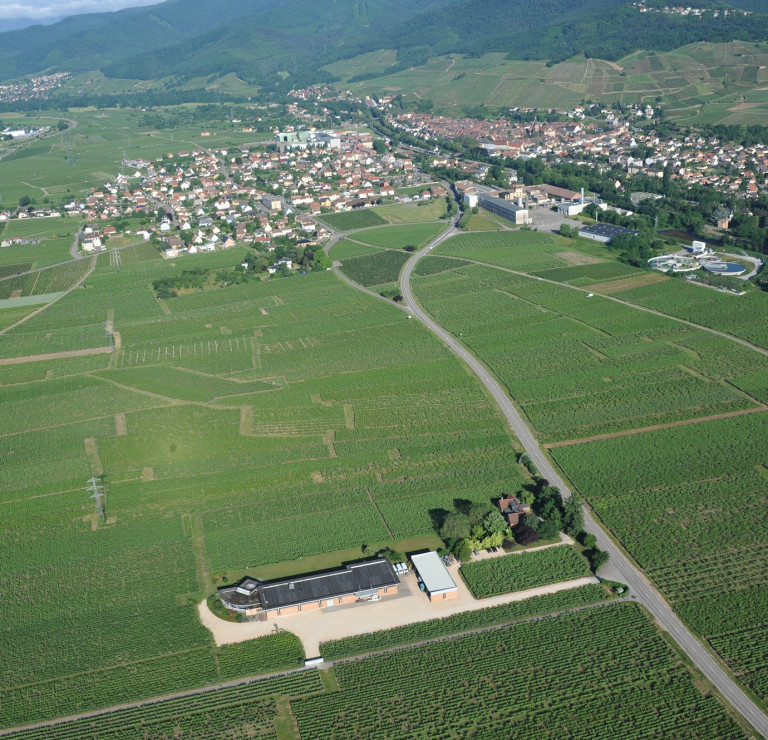 The wines from Herrenweg of Turckheim are always very aromatic, advanced in their development and are always defined by a very ripe acidity and opulent fruit. The wines from Herrenweg are accessible and generous in their youth and although they are often best enjoyed at this stage can surprise 10 or even 20 years later.