Technical presentation
| | |
| --- | --- |
| Bottling : | July 2007 |
| Acquired alcohol : | 15.5° |
| Residual sugar : | 9.6 g/l |
| Total acidity : | 3.1 g/l H2SO4 |
| pH : | 3.95 |
| Yield : | 23 hl/ha |
| Optimum tasting : | 2009-2021 |
| Average age of vines : | 60 years |
| Terroir : | Herrenweg de Turckheim |
| Sweetness index : | 1 |
| Soil : | Gravely soil |
Description of the wine Gewurztraminer Herrenweg de Turckheim Vieilles Vignes 2006
Waow, three different Herrenweg Gewurztraminers! With all the range of wines that we produce, why bother? In fact, we dramatically reduced the volume of the Herrenweg wines in order to produce the Gewurztraminer Turckheim. When we started to harvest the three oldest vineyards, we thought that once, just once, it would be interesting to see how they would taste if fermented separately. We ended up liking all three style and wanted to push the experiment further in keeping them apart in the bottle. The 2 oldest ones are labelled Vieilles Vignes and the third one, only 53 years old, became our 'regular' Herrenweg. Lot 17V comes from the richer part of the gravely valley floor soil. This vineyard was planted in 1947 by my grand father and often produces the richest grapes in the Herrenweg. There is significant botrytis, but the yeasts managed to ferment the wine almost dry. Lot 178 comes from the old vines located next to the winery. We acquired this vineyard 10 years ago after doing a few exchanges with neighbouring winegrowers. It is that old, that nobody really knows when it was planted. I can say that it regularly produces some of our best grapes in the Herrenweg. In 2006, the botrytis was excellent, and compared to the other two Herrenweg, the fermentation was the slowest, keeping a little bit more sweetness on the palate.
Tasting notes
Lot 17V – 1/2008: the colour is dark gold, announcing the richness. The nose is pungent, spicy, peppery, toasted, far from the classic rose scented Gewurztraminers… The palate immediately shows the powerful structure, dry touch and huge leathery/pepper aromas. One could almost think that this comes from a calcareous vineyard site. I would expect this wine to soften with further ageing and also develop more floral flavours. Lot 178 – 1/2008: the nose is classic aromatic Gewurztraminer, with all the rose, geranium spicy flavours, combined with a welcoming austerity that stops it from being heavy. The palate is harmonious, perhaps a little less pungent and dry than lot 178. This is beautiful Gewurztraminer, but already a powerful style. It will need to be paired with flavourful dishes !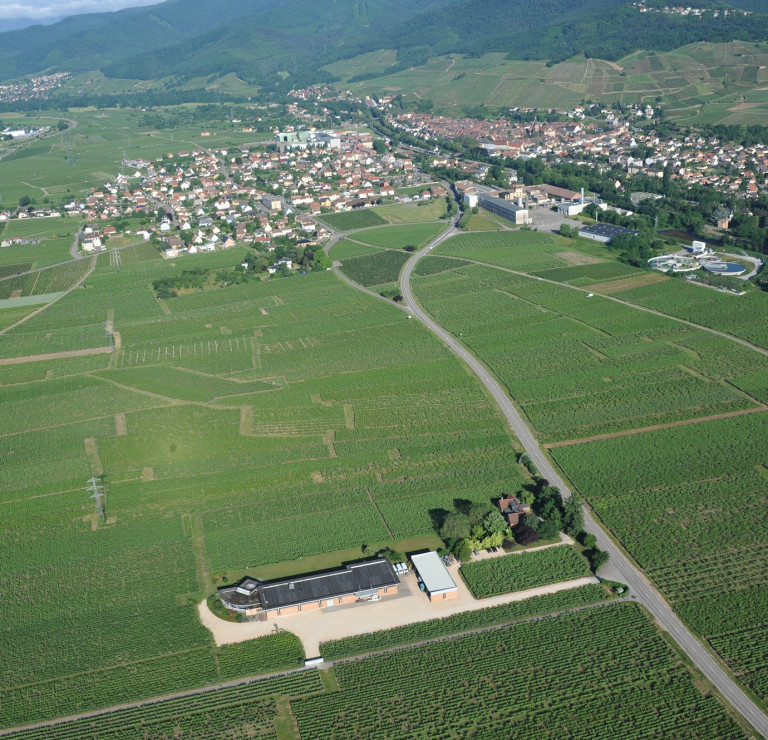 The wines from Herrenweg of Turckheim are always very aromatic, advanced in their development and are always defined by a very ripe acidity and opulent fruit. The wines from Herrenweg are accessible and generous in their youth and although they are often best enjoyed at this stage can surprise 10 or even 20 years later.