Technical presentation
| | |
| --- | --- |
| Bottling : | February 2019 |
| Acquired alcohol : | 13.1 ° |
| Residual sugar : | 3.0 g/l |
| Total acidity : | 3.5 g/l H2SO4 |
| pH : | 3.3 |
| Yield : | 14 hl/ha |
| Optimum tasting : | 2021-2027 |
| Average age of vines : | 38 years |
| Terroir : | Herrenweg de Turckheim |
| Sweetness index : | 1 |
| Soil : | 15% Muscat Ottonel, 85% Muscat d'Alsace, Gravely soil |
Description of the wine Muscat Roche Roulée 2017
The two muscat vineyard in the village of Turckheim were particularly badly hit by the April frost. Luckily, not all secondary buds were out so it was eventually possible to harvest a few clusters. The gravely soil made from glaciers and rivers warms up quickly in spring, pushing usually for early budbreak, which was the problem in 2017. This wine is unusually concentrated and intense, showing the impact of a very small yield on the quality, hence being classified in the Roche range in 2017. The fermentation was fast and the wine finished very dry.
Tasting notes
2/2019: pale yellow colour. Lots of ripe fruit on the nose: bergamot, peach…. It is a bright and intense wine, without any unwanted varietal characteristics. The palate flows easily and is agreeable, with a nice mouthfeel, delicate despite the intensity. The wine is dry, salivating, with nice ripe tannins. It is a complex wine, serious density, way above the vineyard standards but always satisfying and pleasurable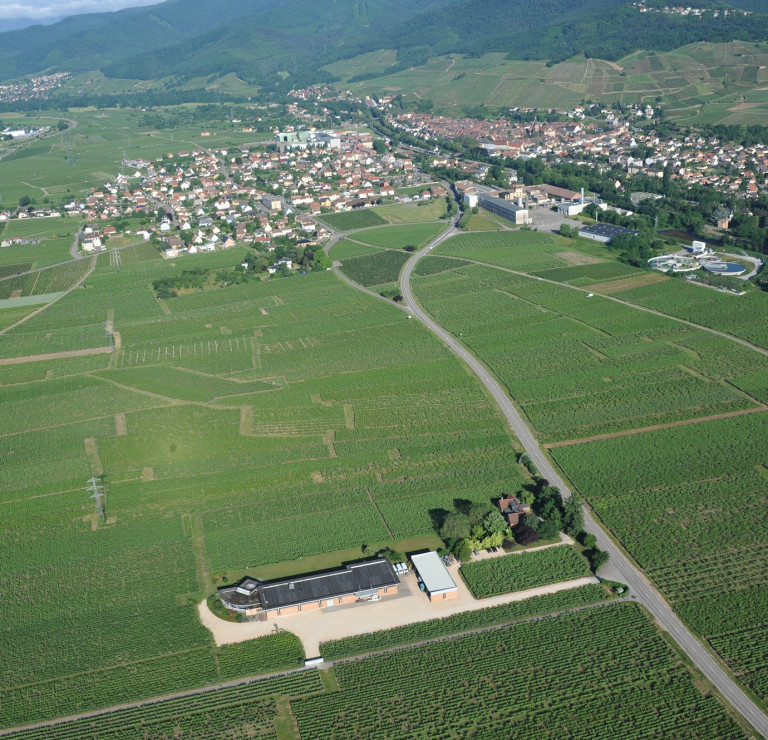 The wines from Herrenweg of Turckheim are always very aromatic, advanced in their development and are always defined by a very ripe acidity and opulent fruit. The wines from Herrenweg are accessible and generous in their youth and although they are often best enjoyed at this stage can surprise 10 or even 20 years later.