Technical presentation
| | |
| --- | --- |
| Bottling : | September 2009 |
| Acquired alcohol : | 14° |
| Residual sugar : | 6.0 g/l |
| Total acidity : | 5.1 g/l H2SO4 |
| pH : | 3.3 |
| Yield : | 54 hl/ha |
| Optimum tasting : | 2010-2020 |
| Average age of vines : | 25 years |
| Terroir : | Grand Cru Goldert |
| Sweetness index : | 1 |
| Soil : | East & South facing, Gentle east slope, Limestone/calcareous/siliceous |
Description of the wine Gewurztraminer Gueberschwihr 2008
This is our only little vineyard (only 100cs produced every year) of Gewurztraminer in Gueberschwihr which is not located in the Grand Cru Goldert. The soil is made of a blend of marl, limestone and some sandstone that was eroded from the hills above and got mixed up. What differentiates this area to the neighbouring GC vineyard is the fact that we do not have much high quality clay here. (High quality clay is clay with a high exchange ratio and high capacity to fix minerals and therefore link with the humus in the soil). So less minerality and complexity in the wines, but, however, it has an interesting location for producing drier, more elegant style Gewurztraminer because of a later ripening climate and good acidity.
Tasting notes
2/2010: this wine shows elegant discreet flowers, acacia honey and a nice delicate mineral nose. This is not the huge big Gewurz style and would perhaps please more the Riesling lovers. The palate tastes almost crisp with a medium power. There is very little sweetness and tannins, so the palate has a dry velvety feel. The aromas eventually wake up on the finish. This is a very easy Gewurztraminer to use with food…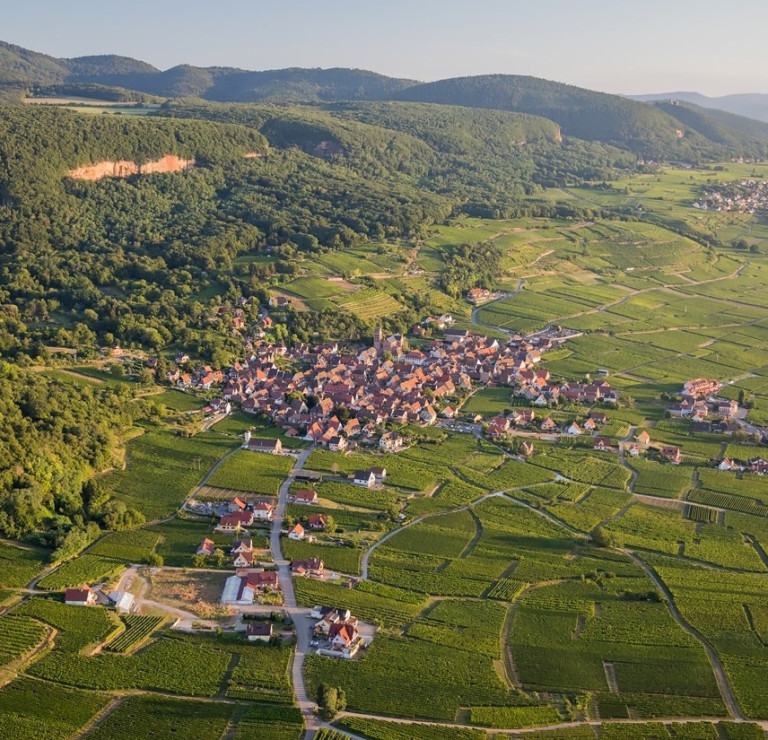 The Goldert of Gueberschwihr is the only locality in Alsace where the geological substratum is composed solely of marine oolithic limestone. Traditionally, the majority of the Goldert is planted to Gewurztraminer and Muscat. These grape varieties are reputed for producing wines with great finesse, structure and a discreet, however complex, bouquet.