Technical presentation
| | |
| --- | --- |
| Bottling : | September 2011 |
| Acquired alcohol : | 14° |
| Residual sugar : | 6.0 g/l |
| Total acidity : | 4.8 g/l H2S04 |
| pH : | 3.5 |
| Yield : | 49 hl/ha |
| Optimum tasting : | 2012-2025+ |
| Average age of vines : | 27 years |
| Terroir : | Grand Cru Goldert |
| Sweetness index : | 1 |
| Soil : | Gentle east slope, Limestone/calcareous/siliceous |
Description of the wine Gewurztraminer Gueberschwihr 2010
We only have one little vineyard, not far from the Goldert GC, but on a totally different soil type (less calcareous and richer) planted in Gueberschwihr with Gewurztraminer. According to new 'village' wine regulations and because we are the only estate to claim the name of this village, we will not be permitted to continue this tradition. The combination of limestone and lighter sandstone elements allows this wine to express every year some interesting floral aromatics. It is also a late ripening area which is harvested usually at the same time as our Muscat Goldert, so we don't allow too much over-ripeness in this wine. In 2010 the grapes were very healthy and the fermentation managed to go through, so the wine became quite dry.
Tasting notes
3/2012: the nose is in the middle between a very floral expressive perfumed type and a more austere mineral spicy Gewurztraminer. The very slow fermentation helped this wine to gain more complex spicy character. There is a great zesty mouth-feel enhanced by a dry finish. This vineyard produced an interesting complex wine in 2010. The finish is elegant and will probably satisfy the non Gewurztraminer lovers!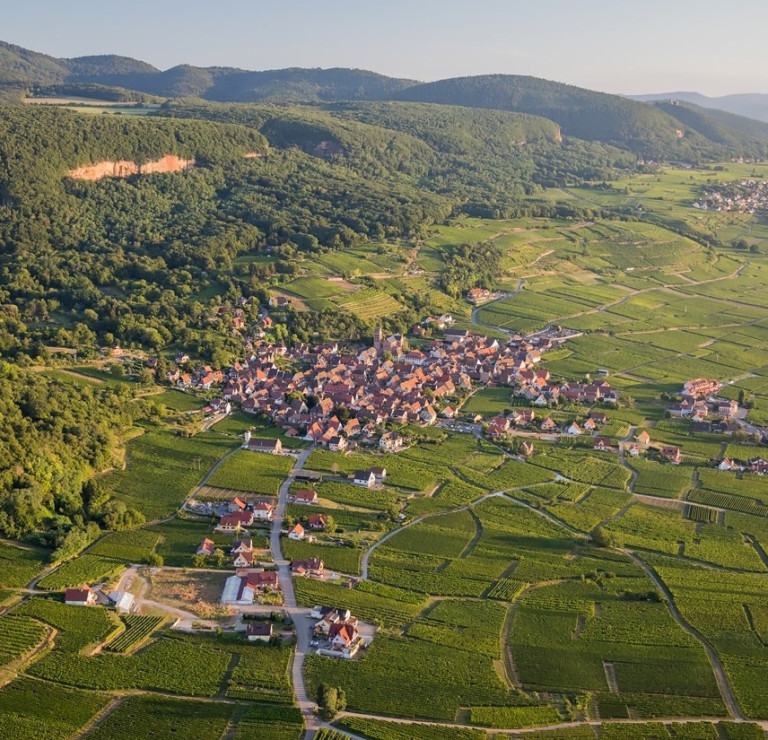 The Goldert of Gueberschwihr is the only locality in Alsace where the geological substratum is composed solely of marine oolithic limestone. Traditionally, the majority of the Goldert is planted to Gewurztraminer and Muscat. These grape varieties are reputed for producing wines with great finesse, structure and a discreet, however complex, bouquet.