Technical presentation
| | |
| --- | --- |
| Bottling : | September 2010 |
| Acquired alcohol : | 14.5° |
| Residual sugar : | 10.5 g/l |
| Total acidity : | 2.6 g/l H2S04 |
| pH : | 3.8 |
| Yield : | 69 hl/ha |
| Optimum tasting : | 2011-2019 |
| Average age of vines : | 26 years |
| Terroir : | Grand Cru Goldert |
| Sweetness index : | 2 |
| Soil : | Gentle east slope, Limestone/calcareous/siliceous |
Description of the wine Gewurztraminer Gueberschwihr 2009
Just like our first Pinot Gris Calcaire, this wine is made from the blending of two vineyards from different villages, having both a similar marl calcareous soil. Here, we decided to assemble the Gewurztraminers from the Goldert GC and the Heimbourg vineyard together. In both vineyards, the grapes were harvested very ripe with a little touch of noble rot. The yields were correct, not too high, and fermentation for both wines was eventless, ending up with rich, dense quite sweet wines. Why did we decide to blend these two wines then? Unfortunately, we felt that they followed two of the greatest Gewurztraminer vintages (2007 and 2008) and comparison was tough. Put together, and therefore loosing their single vineyard status, they are presented in a less pretentious format and become a nice forward and rich Gewurztraminer produced in a sunny vintage.
Tasting notes
2/2011: all is said on the nose: it is powerful, dense, and spicy with a little petroly character that originates from the calcareous vineyards and some noble rot. On the palate, the wine is generous and rich, long lasting with some obvious density and sweetness. It is a very forward wine that does show a nice minerality. It will probably age very well while keeping an outgoing character.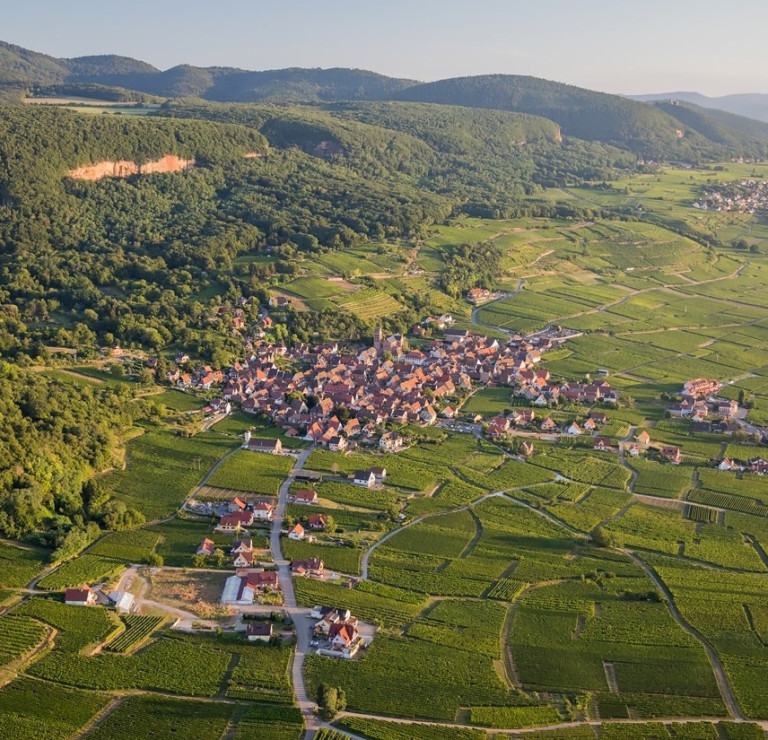 The Goldert of Gueberschwihr is the only locality in Alsace where the geological substratum is composed solely of marine oolithic limestone. Traditionally, the majority of the Goldert is planted to Gewurztraminer and Muscat. These grape varieties are reputed for producing wines with great finesse, structure and a discreet, however complex, bouquet.